Lover Come Back
(1961)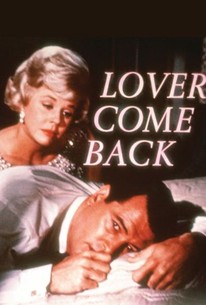 Movie Info
This entry in a series of screwball comedies starring Rock Hudson and Doris Day pits the stars as rival advertising agents on Madison Avenue, battling to land the account for a product which does not actually exist.
Critic Reviews for Lover Come Back
Audience Reviews for Lover Come Back
½
Second helping of the Universal produced romantic comedies of the 1960's,pairing again Rock Hudson and Doris Day in the follow up to the scrubbed-clean,but highly successful 1959 comedy "Pillow Talk". In this outing titled "Lover Come Back",Rock Hudson plays macho advertising executive Jerry Webster,who has succeeded in business without really trying,preferring to show other executives a good time on the order in order to climb the corporate ladder. Doris Day's character Carol Templeton is a straight arrow;she hasn;t met Jerry in the flesh,but really hates him by reputation. Mistaken identity and outrageous hijinks ensue. And when a client's candy samples turn out to have the effect of a triple martini,Jerry and Carol do more than talk on their pillows. Day's canary voice delivers the title track during the opening credits and unexpectedly breaks into "Should I Surrender?" to mull over her ambivalent feelings for Jerry once she figures out that he's such a cad,but however handsome. The 1961 Oscar winner for Best Screenplay(written by Paul Henning and Stanley Shapiro),this was one of Universal's biggest theatrical hits when it came out around Christmas of 1961,becoming one of the top ten highest grossing films of that year. Not only Doris Day and Rock Hudson bring on the laughs,but with Tony Randall and Edie Adams. Several stars on board here including some famiilar names most of known for their television work including Ann B. Davis, along with Joe Flynn, Jack Albertson, Jack Kruschen, Jack Oakie,and the movie debut of a young Donna Douglas(the future Elly May Clampett of the Beverly Hillbillies that was by the way created-written and produced by Paul Henning).
Mister Caple
Super Reviewer
½
Average rehashing of Pillow Talk. Tony Randall is absolutely amazing though.
Sarah Burton
Super Reviewer
My personal favorites of the Doris Day/Rock Hudson movies.
Anthony Valletta
Super Reviewer
Lover Come Back Quotes
There are no approved quotes yet for this movie.