Loving Leah
(2009)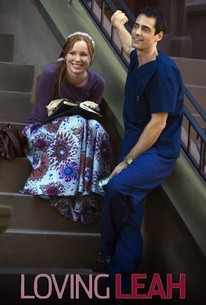 AUDIENCE SCORE
Critic Consensus: No consensus yet.
Movie Info
A handsome cardiologist and his late brother's wife enter into a marriage of convenience while realizing that the harder they work to maintain their "pretend" union, the deeper their love for one another grows. When successful, 30-year-old Washington, D.C. surgeon Jake Lever (Adam Kaufman) learns that his estranged older brother Benjamin has died, the news comes as a startling surprise. Jake and his mother Janice (Mercedes Ruehl) hadn't spoken to Benjamin since he moved away to become a rabbi and began devoting all of his time to his faith and his rabbinical duties. They aren't religious, so when they arrive in Benjamin's Hasidic, Brooklyn, New York community and meet his young widow Leah (Lauren Ambrose), Jake and Janice are virtual strangers to the people Benjamin devoted his entire life to. When the still-single Jake is asked to honor an ancient Levirate marriage law stating that he marry the childless Leah in order to carry on his brother's name or reject Benjamin's existence entirely, he finds latter prospect unthinkable despite being seriously involved with beautiful surgeon Carol (Christy Pusz). On a whim, Jake suggests to Leah that they marry under accordance with Levirate law and secretly maintain a plutonic relationship. Realizing that this may be her one opportunity to follow her own dreams without disappointing her domineering mother Malka (Susie Essman), Leah accepts. But love works in mysterious ways, and over time, Jake and Leah's affections for one another blossom into true love.
Critic Reviews for Loving Leah
There are no critic reviews yet for Loving Leah. Keep checking Rotten Tomatoes for updates!
Audience Reviews for Loving Leah
Typical Hallmark cutesy movie. When his Rabbi brother dies, Jake must renounce his brother so he does not have to marry his widow (Lauren Ambrose). Jake cannot go through with renouncing his brother, so he lands up in a marriage of convenience with Leah. Well, you can see where this is going. I found Lauren miscast as Leah. She is not mousy enough and doesn't look very Jewish to me. As cutesy and predictable as the movie is, I still give it 3 *'s for its entertainment value.
Loving Leah Quotes
There are no approved quotes yet for this movie.