Loving Vincent
(2017)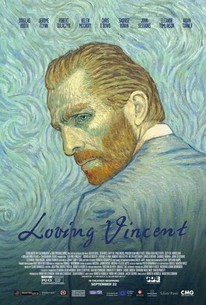 TOMATOMETER
AUDIENCE SCORE
Critic Consensus: Loving Vincent's dazzling visual achievements make this Van Gogh biopic well worth seeking out -- even if its narrative is far less effectively composed.
Movie Info
This feature-length painted animation -- the first film of its kind -- explores the life and unusual death of Vincent Van Gogh via depictions of his artworks. Directed by Dorota Kobiela and Hugh Welchman.
News & Interviews for Loving Vincent
Critic Reviews for Loving Vincent
Audience Reviews for Loving Vincent
I wish they'd put half as much effort into the screenplay as they did the admittedly stunning animation. Hell, even jettisoning the plot might have been the better bet that way we could simply enjoy the imagery.
Alec Barniskis
Super Reviewer
It will be definitely remembered for how it looks: absolutely gorgeous and unique like a Van Gogh painting in motion, that is for sure; yet the film's unimpressive Citizen-Kane-esque plot doesn't offer as much to match its incredible technical achievement, which is a pity.
Carlos Magalhães
Super Reviewer
Film critics tend to talk down on a film when it seems like the core idea of the film is a gimmick. Three-dimensional movies were the talk of the town about 10-15 years ago and have now become an annoyance to many. Loving Vincent is the newest film to try something new in terms of how it tells its story. Being completely painted by hand, this movie moves along as if it had been animated about 60 years ago. A more recent comparison would be to say it looks like A Scanner Darkly, but I truly feel this film's much more unique than even that. This is a wonderfully engaging premise and even without that aspect, here's why I believe everyone needs to see this film, even just based on the portraits alone. Loving Vincent tells the story of Armand, a young man who has been tasked with the devastating venture of delivering Vincent Van Gogh's final letter. Upon arrival of the town that Van Gogh ultimately met his untimely end, Armand finds himself incredibly interested in the mystery surrounding this death. Becoming more of an investigation film than a simple journey, Loving Vincent takes you on a ride that's full of insight and powerful moments between characters. I didn't think I would've been so moved by this movie, but the performances/voiceover work was truly astounding, sucking me right into this beautiful portrait of a film. It's one thing to commend this film for having truly breathtaking visuals, but that's also the understatement of the year. This movie blows away any animated film from last year in terms of being uniquely made. From the nods to Van Gogh's classic works, to the motion and dissolves between scenes, everything about this film felt seamless. That being said, there's a large obstacle that many viewers will have to get over as soon as the film begins as well, being the fact that it's entirely painted by hand. This wonderful aspect of the movie will definitely be off-putting to some, due to the fact that it's the first film of its kind and may be bizarre to look at. For myself, I found it absolutely fascinating, plain and simple. As someone who prefers other forms of art than paintings, I do admire a great piece of art, regardless of the medium. This movie explores a life that pretty much everyone has heard of at some point in time, and I must admit, I didn't know this story was as complex of a mystery as this movie suggests it is. From motivational speeches about life and the universe to questions brought up in a philosophical way, I was incredibly immersed in each and every one of the scenes throughout this film. There's hardly any downtime because every line of dialogue progresses this story forward at a rapid rate. In the end, Loving Vincent may not be for everyone, especially due to its unique look, but the story itself is something I believe everyone needs to see. There is a scene that closes out the movie that I still have playing over and over in my head. As I mentioned many times, this movie is filled with memorable lines of dialogue that truly makes you think about life itself and the universe surrounding us. This may seem biased and this particular reaction will surely not hit everyone the way it hit me, but I found this to be a remarkable picture. I fear this movie will go fairly unnoticed, which is a shame because literally, every aspect of this film is wondrous to behold. This is one of my favorite films of 2017.
Loving Vincent Quotes
There are no approved quotes yet for this movie.