A Low Down Dirty Shame
(1994)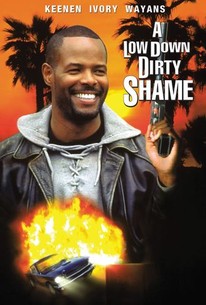 TOMATOMETER
AUDIENCE SCORE
Critic Consensus: A trifecta of failure for writer-director-star Keenen Ivory Wayans, A Low Down Dirty Shame lives repeatedly and resolutely down to its title.
A Low Down Dirty Shame Photos
Movie Info
A black detective becomes embroiled in a web of danger while searching for a fortune in missing drug money in this action-comedy. Writer-director Keenan Ivory Wayans also stars as Los Angeles private eye Arthur Shame, a former cop whose troubled past resurfaces when a one-time colleague asks for help in a narcotic case. During the course of his investigation, he encounters various old connections, ultimately confronting the criminal responsible for Shame's expulsion from the force. He must also deal with two women, Angela, a beautiful old flame (Salli Richardson), and Peaches (Jada Pinkett), his energetic but annoying sidekick. Unlike Wayans' blaxploitation parody I'm Gonna Get You Sucka, A Low Down Dirty Shame sticks more closely to genre conventions, lightening the action with wisecracks and standard comic interludes.
Critic Reviews for A Low Down Dirty Shame
Audience Reviews for A Low Down Dirty Shame
Peaches : Shame might be soft on you, but I can see through all that Maybelline. And you ain't nothin' but a gold-diggin' skank, tryin' to get a man for all he's worth. You hurt Shame again, you betta watch yo' back! Shame: I'll go take me a shower and pretend that I didn't wake up in The Crying Game! Shame (played by Keenan Ivory Wayan) is a former cop now a private detective with, who is broke. When an old friend offers him a job to track down a criminal who Shame believes he had killed, he takes the case for personal as much as financial reasons and soon finds himself in a whole world of trouble. Meanwhile his sassy secretary Peaches (a hilarious Jada Pinkett), tries to help him but the sexual tension between them also proves to be a distraction. My favorite part was when Peaches punched out a soap opera actor Brad because his character had sex with one of the other characters that she didn't like haha. Another funny scene is when Shame has a couple dogs chasing him and he started singing a song by James Brown to calm them down. (Well they do say music sooths the savage beast lol) And what about that bedroom scene when he wakes up next to ~Girlfriend~
½
Not bad action-comedy of Keenen Ivory Wayans' film. Jada Pinkett's animated performance as Shame's fast-talking girl Friday is one of the few outstanding elements in this otherwise so-so spoof of blaxploitation pictures.
Dean McKenna
Super Reviewer
i am chuy yung phat, do you know what this means? yea, it means you come with an egg roll and mi so soup.
A Low Down Dirty Shame Quotes
| | |
| --- | --- |
| Chun Yung Fat: | I am chun yung fat. Do you know what that means? |
| Shame: | Yeah. You come with an egg roll and miso soup |
| Chun Yung Fat: | One day we will meet again. |
| Shame: | Next time bring some breath mints. |