Lower Learning
(2008)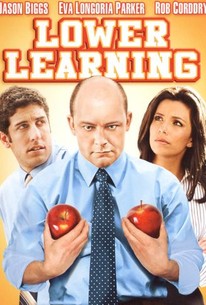 AUDIENCE SCORE
Critic Consensus: No consensus yet.
Movie Info
Eva Longoria Parker, Rob Corddry, and Jason Biggs star in first-time writer/director Mark Lafferty's satirical look at the American school system as seen from the perspective of a burnt-out elementary school vice principal on the verge of a nervous breakdown. When it comes to receiving a proper education, Geraldine Ferraro Elementary is the last place a parent would want to send their child; the teachers generally hover somewhere between drunk and psychotic (though frequently a bit of both), the children have all been left behind. Meanwhile, harried Vice Principal Tom Willoman (Biggs) has little choice but to stand aside and watch as both his life and career slowly circle the drain. Enter Rebecca Seabrook (Longoria Parker) -- the smoking-hot district inspector assigned the thankless task of shutting down Geraldine Ferraro Elementary once and for all. Taking note of the reckless corruption displayed by morally handicapped Principal Billings (Corddry), Rebecca schemes with Vice Principal Willoman to take back the classrooms and give the kids a fair shot at getting a proper education. But ever since he suffered an undisclosed tragedy, Vice Principal Willoman has been rendered a total milquetoast. Can Willoman summon the fortitude needed to help Rebecca whip Geraldine Ferraro Elementary back into shape, or has the damage inflicted during the embarrassing Billings administration already locked the school into an irreversible nosedive of epic buffoonery? Kyle Gass, Monica Potter, and Ed Helms co-star.
Critic Reviews for Lower Learning
All Critics (1) | Fresh (0) | Rotten (1) | DVD (2)
Lafferty is all about expletives and sexual innuendo of the frankest kind, some of it so raunchy (and unfunny) as to make one wonder if the parents of the film's many child actors bothered to read the script.
Audience Reviews for Lower Learning
Number 3 off pile of crap. Tried to watch this some time ago and failed. However, as it is only comedy on pile and didn't feel like thinking too much today, this was it. Well, it hasn't improved since my last failed attempt. This is really pretty weak stuff. I can see that they have tried to do a pitch black satire, but it really hasnt worked at all. A film is in trouble when the best thing in it is the child actors (yes, that coming from me!). They are actually pretty good, while the adults such as Jason Biggs and Eva Longoria fail to convince. A few small smiles but pretty sure I didn't laugh once here. Only watch it if you really have to!
Nicki Marie
Super Reviewer
½
This is a satirical film about our failing education system but it's not as funny or enjoyable as I thought it would be. Cute little kid actors but I was expecting more from Jason Briggs and Eva Longoria. I would give this one a miss.
½
The cast is star studded, with 2 big names, Eva Longoria and Jason Biggs playing leading roles in a satirical movie about failing education. This movie aimed to hit the higher targets. Yet, through a series of dead-end, awkward jokes and innuendos, this movie failed to even meet the lower targets. With poor storyline, poor execution, and poor (or rather, non-existent) acting from the cast, this film is destined to be a disaster. The plot lacked sequence and organisation. With figures of around $2m of budget, one would think that the movie can be something better, but unfortunately it was not the case. The only saving grace is Jason Biggs, who have changed his character from being a nutter in his previous movies, to somebody who can give substance and impact to the movie. As for Eva Longoria, I think she acted better in her previous movie Over Her Dead Body and I hope she chooses her character carefully before committing herself. This movie only gains any credibility through the children's credible and compelling performances. Perhaps this movie would have been better with an entirely child based crew working on its production, like a more updated idea of Bugsy Malone. All in all, not the best movie around and not a good movie, as the movie is aptly called. Lower Learning is as titled, lower learning.
Steven Vincent Gee
Super Reviewer
Lower Learning Quotes
There are no approved quotes yet for this movie.