Lucky Number Slevin
(2006)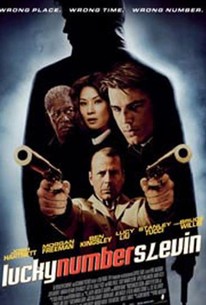 TOMATOMETER
AUDIENCE SCORE
Critic Consensus: Trying too hard to be clever in a Pulp Fiction kind of way, this film succumbs to a convoluted plot, overly stylized characters, and dizzying set design.
Lucky Number Slevin Photos
Movie Info
An innocent man visiting a friend in New York City becomes embroiled in a dangerous series of events after being mistaken for the very man he has come to the city to see in director Paul McGuigan's labyrinthine murder mystery. Upon arriving at the empty apartment of his old friend Nick, the unassuming Slevin (Josh Hartnett) is troubled to hear the voice of his missing friend's next door neighbor Lindsay (Lucy Liu) expressing concern as to Nick's safety and whereabouts. When Slevin ventures into Lindsay's apartment only to be greeted by the uninviting fist of a thuggish mob henchman, he quickly realizes that Nick is indeed in grave danger. Soon summoned by the big boss and accused of being the deeply indebted Nick, Slevin's attempts to prove his identity are foiled by the fact that his wallet had been stolen upon arrival in the city. With time running out and a complex plot to assassinate one of the city's most powerful crime bosses slowly coming into focus, the arrival of a notorious hit-man named Mr. Goodkat (Bruce Willis) forces Slevin to step up his desperate search and reclaim his identity before he's forced to pay a debt that could cost him his life.
Critic Reviews for Lucky Number Slevin
Audience Reviews for Lucky Number Slevin
½
A glossy revenge spin, played light, where characters quip while trading punches to the gut. It's not as amusing as it seems to think it is. And Lucy Liu ... why don't that girl see more work?
Kevin M. Williams
Super Reviewer
Josh Hartnett plays Slevin, a man in the wrong place at the wrong time when he is caught up in a war between two rival gangsters. Clearly inspired by the post modern thrillers of Quentin Tarantino and Robert Rodriguez, Lucky Number Slevin is a smart and sassy if slightly self-conscious revenge story. Hartnett's character is maybe a bit too much of a smug smart ass for the first half of the film, but as things darkened I liked it a whole lot more. It looks great and although it lacks the subtlety of The Usual Suspects and the like, the quality performances and clever dialogue keeps things interesting. The weak link was probably Lucy Liu's character who's responsible for one of the more implausible moments of the story but some nice chemistry with her co-star papers over the resulting plot hole. But these facts only stop it from being a GREAT film, not a GOOD one; Freeman, Kingsley, Tucci and Willis are all great and it is consistently entertaining. Compared to other ironic thrillers, I'd have to say it's not quite as good as Kiss Kiss Bang Bang, but better than Smokin' Aces. Smarter and better looking than the average mainstream thriller.
½
The biggest thing I remember hearing about this film upon it's release was the mentioning of Ben Kingsley's Knighthood on the film poster. This seemed to create quite a stir, as professional credits don't normally include this. It transpired that is was all just a mistake but it overshadowed the film itself, which is a shame as this is quite a tight little mystery/thriller. Arriving in New York to stay at a friend's apartment, Slevin Kelevra (Josh Hartnett) finds that his friend is missing and owes money to two very dangerous criminals - The Boss (Morgan Freeman) and The Rabbi (Ben Kingsley). Added to which, Slevin finds himself mistaken for his absent friend and soon involved in a lot of trouble with them both. With the help of his friends neighbour Lindsey (Lucy Liu), Slevin tries to clear up the confusion. I've always been a sucker for films that twist and tease, keeping you perplexed and forcing you to keep up to speed. I like it when the script has actually been given some attention and one that demands the attention of the viewer. This is that type of film. It keeps you guessing and is not without a dark and lightness of touch either. It helps when there's an impressive cast assembled also and each of the performers involved here deliver fine pieces of work. Seeing old hands Freeman and Kingsley play off one another is a particular highlight. Ultimately, it's the convoluted nature of the story that impresses most though. Screenwriter Jason Smilovic and director Paul McGuigan add substance and style to the proceedings and keep you at just the distance from the characters' motivations. However, intricate and clever films also face the danger of becoming too loaded. For the most part, this film is a success but the denouement is a little muddled. For a film of this type to work, it needs to have a pay-off and this does have a satisfactory one. The only problem is, it has one two many. Without revealing too much, the fate of a prominent character seems like it's been tacked on and stinks of studio involvement, letting down an otherwise intricate and cleverly constructed film. A satisfyingly convoluted crime yarn with an impressive and eclectic mix of actors. However, the unravelling is a major demerit. Well, that and Bruce Willis' ridiculous hairpieces.
Mark Walker
Super Reviewer
Lucky Number Slevin Quotes
| | |
| --- | --- |
| Slevin: | They picked up the wrong guy. |
| The Boss: | Wrong guy for what? |
| Slevin: | Whatever it is you wanted to see me about. |
| The Boss: | Do you know what I want to see you about? |
| Slevin: | No. |
| The Boss: | Then how do you know I have the wrong guy? |
| | |
| --- | --- |
| Schlomo: | The first time someone calls you a horse you punch him on the nose, the second time someone calls you a horse you call him a jerk but the third time someone calls you a horse, well then perhaps it's time to go shopping for a saddle. |
| | |
| --- | --- |
| Lindsey: | What happened to your nose? |
| Slevin: | I was using it to break some guy's fist. |
| | |
| --- | --- |
| Mr. Goodkat: | A Kansas City Shuffle is when everybody looks right, you go left. |