Lucky You
(2007)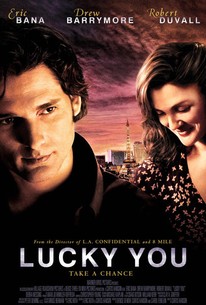 Movie Info
In the world of high-stakes poker, Huck Cheever is a blaster--a player who goes all out, all the time. But in his personal relationships, Huck plays it tight, expertly avoiding emotional commitments and long-term expectations. When Huck sets out to win the main event of the 2003 World Series of Poker--and the affections of Billie Offer, a young singer from Bakersfield--there is one significant obstacle in his path: his anger toward his father, L.C. Cheever, the poker legend who abandoned Huck's mother years ago. As these two rivals progress toward a final showdown at the poker table, Huck learns that to win in the games of life and poker, he must try to play cards the way he has been living his life and live his life the way he has been playing cards.
News & Interviews for Lucky You
Critic Reviews for Lucky You
Audience Reviews for Lucky You
½
This was movie was so boring. Long scenes just watching people play poker... not the most enthralling set up for a movie. I mainly stuck through this one because I do like Drew Barrymore and have enjoyed most of her movies. She's sweet in this as always, but it's not enough to make for interesting viewing. To me, anyhow. Perhaps if you are a poker enthusiast you might feel differently!
Nicki Marie
Super Reviewer
½
[font=Century Gothic]In "Lucky You," Huck Cheever(Eric Bana) is a professional gambler living in Las Vegas who spends all of his time trying to gain entry to the World Series of Poker which requires a $10,000 entrance fee. During his rounds, he rescues Billie(Drew Barrymore), sister of an old acquaintance who is in town from her native Bakersfield to pursue a singing career. He gives her a tour of the Las Vegas that he is familiar with, one where the gamblers do nothing else, pretty much living and sleeping in the casinos. In one case, that's literally true. [/font] [font=Century Gothic][/font] [font=Century Gothic]Directed by Curtis Hanson, "Lucky You" may not have a particularly strong story, but it is a well-told character study(of a character who is not really that likable but that works too), starting with the bravura opening scene set in a pawn shop. On the other hand, the daddy issues are way too familiar. And while the climax is in the expected place, events do not unfold exactly as predicted. But isn't that the way it is with true life where no matter how talented a person is, luck is always a large factor in a deciding their destiny?[/font] [font=Century Gothic][/font] [font=Century Gothic]The casting is superb, and not only with the principal actors. Most of the faces seen in the movie do not look like they came from Hollywood. Instead, they look like real people who came to Las Vegas and are still trying to find a way out. And not even Drew Barrymore is exempt from this particular spell of deglamorization. [/font]
½
Enjoyable enough for poker fans, but overall, too many other stupid things going on. It solidified my conviction that Drew Barrymore should stick to strictly comedic roles.
Taylor Bond
Super Reviewer
Lucky You Quotes
There are no approved quotes yet for this movie.