Ludwig
(1973)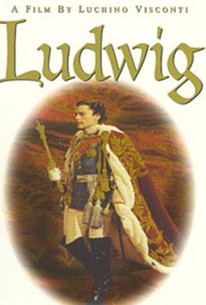 Movie Info
The 19th-century King of Bavaria becomes involved in scandal. Conspired against by his own ministers, he died in mysterious circumstances which for reasons of state were attributed to his own madness.
Critic Reviews for Ludwig
Audience Reviews for Ludwig
½
We Could be Heroes…Grand, Operatic, and Elegiac! Visconti is at his best enlivening the historical, with his attention to every detail. Shot on location, the narrative structure wonderfully paces the rule of King Ludwig II of Bavaria. Helmut Berger infuses his portrayal with ambiguity, further heightened by nascent homosexuality: Is he mad or a genius? This idealistic Moon King is not a ruler for a united German republic. Associations with the feminine and embryonic state abound. With twitching hands and shifting eyes, Ludwig's mannerisms alone chart his retreat to a world of fantasy. This film must be seen in its complete, unexpurgated version to appreciate the artistry. Truly Royal!
Stefanie C
Super Reviewer
Even before he is crowned King of Bavaria in 1864, Ludwig(Helmut Berger) makes plans for his kingdom to be a center of arts in Europe. Along these lines, he invites famed composer Richard Wagner(Trevor Howard) to Munich but he is nowhere to be found. And he is shocked when he finds out that his police are employed in tracking him. In the meantime, Ludwig is encouraged to vacation at Bad Ischl where all the fashionable crown heads are staying this year including his cousin Elisabeth(Romy Schneider), Empress of Austria, who has the ulterior motice of trying to set up Ludwig with his cousin Sophie(Sonia Petrovna). Directed by Luchino Visconti, "Ludwig" is a scrupulously made if talky and overlong spectacle that tries its best to avoid any specific history like the unification of Germany in exchange for an examination of the role of the ruler in a monarchy. In other words, who runs the country: the king or the nobles? And what if the king has little interest in statesmanship? The movie is told in flashback from a hearing set to determine Ludwig's mental capacity to rule, determining whether he is insane or merely eccentric.(This does remind me of a very recent case where the royal title was only honorary.) I could tell you he is certainly gay. In any case, there is a simple answer located in an old saying: If you are poor, then you are crazy. If you are rich, then you are eccentric.
What more can you ask when you have an all-star cast of Berger,Mangano,Howard,Schneider,a cohesive prestige of "wealthy pendants" and a brilliant piece of biographical composition.A legendary figure to dedicate this probably,aha...who cares if that individual is a combination of Napoleon,T.E. Lawrence and Caligula?
Dimitris Springer
Super Reviewer
Ludwig Quotes
There are no approved quotes yet for this movie.