Lunacy
(2006)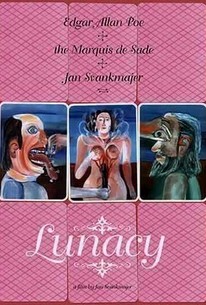 Movie Info
A man who fears he's edging into madness gets a fresh perspective on what insanity really means in this frantic, visually inventive black comedy from Czech auteur Jan Svankmajer. Jean (Pavel Liska) is a deeply troubled man who has been haunted by violent hallucinations since the death of his mother, who was committed to a mental institution when she passed on. While arranging his mother's funeral, Jean meets a fellow inmate who claims to be the Marquis de Sade (Jan Triska), and lives as if he's in 18th Century France rather than the Czech Republic in 2005. Jean strikes up an alliance with de Sade, though they can hardly be called friends, and after becoming an unwilling accomplice to de Sade's debauchery, Jean joins him at a hospital run by Dr. Murlloppe (Jaroslav Dusek), who offers "Purgative Therapy" for people who aren't mad but could be in the future. Jean falls for a beautiful nurse named Charlota (Anna Geislerova) who claims she's being held at the hospital against her will; in time, Jean hatches a plan to liberate her and the inmates, though he learns the truth is even more disturbing than he's been led to believe. Punctuated by animated tableaux in which raw meat scampers about the screen through the magic of stop-motion animation, Lunacy (aka Sileni) was inspired in part by the short stories of Edgar Allan Poe as well as the writings of de Sade, which are quoted liberally in the film. ~ Mark Deming, Rovi
News & Interviews for Lunacy
Critic Reviews for Lunacy
Audience Reviews for Lunacy
½
A mentally unstable man meets a modern day Marquis de Sade who holds blasphemous rituals in his basement and convinces his guest to commit himself to an insane asylum run by the inmates. In between scenes we see clips of steaks and disembodied tongues slithering about. It's bizarre, but not the strangest from surrealist animator Svankmejer; if you squint hard, it even looks like an ordinary horror movie. The tag line says it best: "Edgar Allen Poe + the Marquis de Sade + Jan Svankmejer = Lunacy."
If you're not familiar with Svankmajer's unique style of finding the endearing in the disgusting, nor grown accustomed to his meat puppets or skeletal animals, you might find this movie somewhat aversive at first - hopefully only to discover its brilliance in the end.
vieras esine
Super Reviewer
Lunacy Quotes
There are no approved quotes yet for this movie.