Lust, Caution
(2007)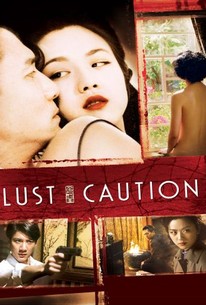 Movie Info
Academy Award-winning director Ang Lee adapts this Eileen Chang story set in World War II-era Shanghai that details the political intrigue surrounding a powerful political figure named Mr. Yee (Tony Leung) in Japanese-occupied Shanghai. Spanning the late '30s and early '40s, the movie introduces us to Hong Kong teen Wong Chia Chi (Tang Wei), a shy college freshman who finds her calling in a drama society devoted to patriotic plays. But the troupe's leader, Kuang Yu Min (Wang Leehom), isn't just a theater maven -- he's a revolutionary as well, and he's devoted to carrying out a bold plan to assassinate top Japanese collaborator Mr. Yee. Each student has an important role to play, and Wong puts herself in a dangerous position as Mrs. Mak; she befriends Mr. Yee's wife (Joan Chen), and slowly gains trust before tempting him into an affair. While at first the plan goes exactly as scripted, things suddenly take a deadly turn and Wong is emigrated from Hong Kong. Later, in 1941, the occupation shows no signs of ceasing and Wong is simply drifting through her days in Shanghai. Much to her surprise, the former actress finds Kuang requesting that she resume the role of Mrs. Mak. Now, as Wong again gains intimate access to her dangerous prey, she must struggle with her own identity in order to pull off the performance of a lifetime. ~ Jason Buchanan, Rovi
News & Interviews for Lust, Caution
Critic Reviews for Lust, Caution
Audience Reviews for Lust, Caution
Lust, Caution is based on a novella that is apparently loosely based on some actual events. That last bit kinda makes sense to me, but it really felt like something based in reality. The story is set primarily in Hong Kong in 1938 and Shanghai in 1942 amidst the Japanese occupation of China, and the puppet government established there and concerns a young woman involved with a resistance group who plot to kill those "traitors" collaborating with the ruling Japanese government. As part of their plan to kill a certain target, the young woman goes undercover as his mistress, but soon finds herself in a dangerous position as her growing connection to him can't help but conflict with her efforts to help assassinate him. Looking at just the broad points, this is not a new sort of story, and this sort of thing has been seen quite a lot before, especially with the whole war time angle. What makes this one unique is the specifics, namely the Japanese occupation of China, which is a topic not often explored in film (so far as I know). That's unfortunate too, because this is a rather fascinating subject. I'm glad that Lee decided to try to bring more attention to it. Now, for the rest of this review, I need to make it clear that the version I saw was not the original (preferred) NC-17 cut, but the censored R-rated version. For this reason, I was kinda let down, and imagine that I'd be giving the regular version a higher grade. From what I can tell, all that's changed is the numerous and graphic sex scenes have been toned down a hair. That's kinda dumb too, as these are things that are actually rather crucial to the story and characters, specifically the emotional impact of Mak Tai Tai and her relationship to the man she's supposed to help assassinate. The film was also wrongly billed as an erotic thriller. Yeah, it's a suspense/espionage thriller, but I wouldn't really call it erotic. It's steamy, sure, but the tone and context keep things from really being all that titillating. Yes, the censored cut gets the point across, but it feels forcefully compromised. Okay, enough with the ranting. All in all, this is quite a film. It's quite lengthy, but surprisingly light on dull moments. It's really absorbing and interesting, and you really get involved with how the events will play out. The love that Mak Tai Tai falls in with Mr. Yee isn't the sweetest, but there's no denying the two have a deep emotional connection, despite his roughness and trust issues. The period details are quite nice, and the film has gorgeous cinematography. The writing is quite nice, the performances are terrific, and this is a wonderfully done variation on a theme. The ending is a bit odd and somewhat of an unsatisfying letdown, but the buildup remains quite good. All in all, a fine piece of work, even though the censorship issues leave some unfortunate scars.
Chris Weber
Super Reviewer
There is a moment towards the end of Lust, Caution where the two main characters give each other a series of looks. It lasts for quite a while, there is no dialogue. It's not necessary. The protagonists tell each other what they are thinking simply with their eyes. We, the audience, know EXACTLY what they are thinking - or at least are given the opportunity to make up our own mind. We also know a fraction of a second before she says "Go, now" that she will say it. It's a great moment which made me gasp. Up till this moment in the film, I feel that Ang Lee has given us one big tease. Is she, isn't she? Is he is't he?? And so on... 'Lust, Caution' is, rather obviously, a take on Hitchcock's 'Notorious' (something Lee has gone on to say as much in interviews). But anyone coming to this film expecting a romantic thriller, will be sorely disappointed. The heroine of 'Lust, Caution' is most assuredly on her own here. There is no Cary Grant to save her from the villain (or herself) - Ang Lee fondly reminds us of this with a glimpsed poster for 'Suspicion' and also when our heroine sees 'Penny Serenade' at the cinema, we have Grant bearing down. It's a touching moment and also a subtle reminder that this tale will probably not have a happy ending! I imagine a clip from 'Notorious' would have been a bit too obvious but in another scene we do see her crying over Ingrid Bergman in 'Intermezzo' (Grant's co-star in Notorious and the original spy/whore). But anyone who knows 'Notorious' will know the differences - not just in plot but in pacing and narrative. 'Lust, Caution' is as much an espionage thriller as Brokeback Mountain is a Western. Characterisation is poles apart also. In 'Notorious', Ingrid Bergman's Alicia is a drunk and treated as a tramp (Personally I'd like to think she was just a hedonist who liked a good time or two - which to the more prudish and judgmental among us equals a tramp anyway). Cary Grant comes along and persuades her to become a spy, to seduce the Nazi, Alexander Sebastian (Claude Rains) in to bed so they can find out what he and his fellow Nazis are up to in Rio. Of course, Alicia is initially reluctant for many reasons. But Dev knows she's been round the block a few times - she knows the difference between work and play, and she goes along with the plan very much with her eyes wide open. And essentially what follows is a love story pretending to be a spy thriller - at the heart of 'Notorious' is a story of redemption through love. The spy element is the 'mcguffin'. But it is still a thriller. 'Lust, Caution' on the other hand, with its deliberately slow pacing and intense eroticism, is something else entirely. One thing it is not, is a thriller. At least not in its conventional sense. Although the 'heroine' of 'Lust, Caution' is not a virgin when she meets Mr Lee, she is very much an innocent. The clumsy, and tragically comic, fumbling 'sex lessons' she endures with one of her fellow resistance troupe is certainly NO real learning experience for life or for what she has to do. Unlike Alicia, she is an innocent to men and sexuality - she wouldn't find it so easy to distinguish between 'work and play'. Like Alicia she is 'Mata Hari' - she "makes love for the papers". A spy. Unlike Alicia, she is practically a child. But she is also an actress. So what are we seeing? A actress giving a convincing performance for fear of risking her life? A naive innocent? A love story? Here, we are not given the luxury of knowing what she is really thinking. That's were the tension comes from. That's its genius. I don't think we ever truly know what the heroine is actually feeling - is she acting, is she falling in love with Mr Yee? Or is it maybe a mixture of both? Possibly. Over the course of a little under three hours I don't think we ever truly know. In the same way, we know practically nothing about Mr Yee - his actions, what he is feeling. We only know what is TOLD us, what is spoken about by the troupe of resistance fighters, what they believe - that he is a collaborator and torturer. But we NEVER see it! (Only once, I think, does Mr Yee talk about it). Is this dishonest of the makers of Lust, Caution? Or do we really NEED to see it? Maybe it's not important. After all, Wong Chia Chi never sees it so why should we? This is her tale. The first real clues to Mr Yee's true nature become blisteringly apparent in the first time they have 'sex' - a scene of such brutal ferocity that it gave me a knot in my stomach - he beats her with his belt and rapes her. For the audience, it's very easy to see the corrupting monster he is from this scene. Maybe this is how he has treated his (female) captives? It's not hard to imagine. But for the naive innocent Wong Chia Chi, I think it's entirely possible to imagine her seeing this brutal act as making love - how would she know any different? She's no Mata Hari or Alicia Huberman. She doesn't know men. I don't know. Even after a second viewing, I'm still undecided if I really like Lust Caution. I certainly find it hard to engage with the main characters. Ultimately, the ambiguity of the heroine's motivations and the inscrutable characterisation of Mr Yee, not only alienates much of the audience but also leaves the film open to accusations of immorality - is this really a love story? And if so, do we empathise with a woman who is very likely in love with a monster? I'm inclined to hope not! Wong Chia Chi is an actress but, even more than that, an innocent. I would say that, by the end of the story, she has become a little infatuated with (inscrutable) Mr Yee and her naivete means she makes a terrible decision that proves to be everyone's downfall. Whether he is in love with her is an irrelevance almost. It's too late. If she - or we, the audience for that matter - were shown Mr Yee's crimes, this would be a very different story. Motivations would be black and white. Whether this would have made it a better film or easier to understand is a moot point. I do feel though, it would have been an easier film to forget.
William Sleet
Super Reviewer
½
Lust, Caution is a film of epic proportions. Every aspect of filmmaking reaches the kind of quality that makes me want to poke my eyes out when I have to watch the gross of the modern-day production at the theater. Lust, Caution has everything down: perfect character development, perfect performances, flawless art direction, amazing music. It has all the spirit of a classic, even despite its rather explicit sexual content which might make it less accessible to massive audiences. In the future, though, I'm sure it will be appreciated for what it truly is and people will choose to see it for its quality and its emotional force, regardless of whether they feel awkward about its NC-17 aspects. I know just about nothing about the context here, which is the Japanese occupation in China, but the message came across clearly. The plot, in itself, is quite complicated and I feel it's useless to write it down here, mainly because I would hardly say that's L,C's principal attractive. Most importantly, at the core of the film, is a torrid, mainuplative, violent affair between Tang Wei's character and Tony Leung's. She has to get close enough to kill him, and the way to get there is too often through encounters in hotels where they don't speak to each other, they just... do it, Their communication takes place on a different level than conversation, and during those brief rendez-vous it is possible to see how they might be falling for each other. But what could be more tragic, inconvenient, and impossible than that? Ang Lee's film has the strength of a space rocket. The emotional tension between characters and situations is such that an audience can become deeply involved in it, forget the outside world so to speak. Lee makes some not very likeable characters into people with souls and horrible conflicts. In that sense, it would be easy to catalog Lust, Caution as a tragedy, rather than a drama: sadness, sacrifice, atonement, emptiness constitute the drive behind the action, and little more. Beneath the political and moral implications, there's a huge problem worthy of Greek theater: two people desperately in love with each other, who also happen to have an unexpected, dangerous control over the other's life, and strings that attach them to causes and interests ready to pull the arm at any time. The girl has to be around the man knowing that she can't be as emotionally close as she wants to, knowing that any false step would make him kill her, and yet completely aware of the fact that she wouldn't have it any other way.
Lust, Caution Quotes
There are no approved quotes yet for this movie.