Ma Fille, Mon Ange
(2007)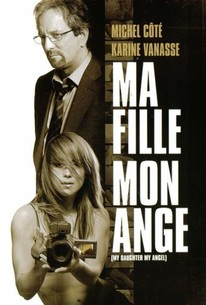 AUDIENCE SCORE
Critic Consensus: No consensus yet.
Ma Fille, Mon Ange Photos
Movie Info
A father fighting to protect his only daughter from entering the porn business is implicated in the murder of an adult film actor in this Canadian thriller starring Michel Côté. Infamous political advisor Germain Dagenais (Côté) and his wife Jeanne raised their daughter Nathalie (Karine Vanasse) in a serine country village far removed from the temptations of the big city. But when Nathalie goes off to college, she quickly succumbs to the lure of temptation. Then one night, while browsing the internet, Nathalie's father sees the unthinkable: his beloved daughter has her own sex website. Horrified, Germain races to Montreal on a mission to stop Nathalie from making a mistake that could destroy her life. Later, when Nathalie's co-star turns up dead, the police piece the clues together in order to determined who killed him, and why.
Critic Reviews for Ma Fille, Mon Ange
There are no critic reviews yet for Ma Fille, Mon Ange. Keep checking Rotten Tomatoes for updates!
Audience Reviews for Ma Fille, Mon Ange
Had lots of potential... which all went down the drain. Poor, but a good effort. Fine acting from Michel Côté.
½
It's a solid thriller. I really liked how the film kind of moved around through time for, I assume, a more compelling narrative. Obviously this is not a new technique, but it was used well. I would have liked this film better, though, if it didn't fall into the trap of many non-American movies, and that's: cut itself out as one. It would have benefited for the director ignoring modern film making norms, as it did deviate from the rest of these types of films that fall of the assembly line. In a good way too. Another problem is that in this sub-genre of films, being the Alice in wonderland situation with a character looking for another in the seedy underbelly of porn, it did not try to push the envelope (is that the expression?) further than those that came before. Namely Paul Schrader's Hardcore. But after the qualms, are cleared away, I still dug the film and it's worth a watch. Plus Kudos to Michel Cote, I'm not too familiar with him as an actor but he's a pretty darn good one, or at least put up a good performance.
Patrick Dolan
Super Reviewer
My Daughter, My Angel is on of those parenty parent films that doesn't get too...shit. In many ways this could be compared to Taken. Cote is a father looking to save his daughter from the porn industry. The great thing is that the film does not represent the porn industry as a dirty, slimy, seedy, grimey place. Nor are the girls unwilling participants. At the same time it avoids making them seem slutty. To put it simply, My Daughter, My Angel does a great job at creating real characters, it avoids bias as well. The film does well to avoid the moral and ethical nature of porn altogether. This is an examination on father-daughter relationships. The obsessive control, the unwarranted rebellion and so forth. It's all wrapped up in a neat and concise thriller that avoids being gratuitous or preachy.
Luke Baldock
Super Reviewer
Ma Fille, Mon Ange Quotes
There are no approved quotes yet for this movie.