MacGruber
(2010)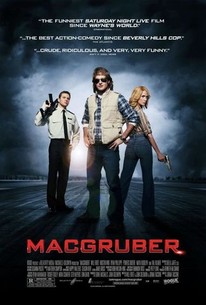 TOMATOMETER
AUDIENCE SCORE
Critic Consensus: It too often mistakes shock value for real humor, but MacGruber is better than many SNL films -- and better than it probably should be.
Movie Info
Only one American hero has earned the rank of Green Beret, Navy SEAL and Army Ranger. Just one operative has been awarded 16 purple hearts, 3 Congressional Medals of Honor and 7 presidential medals of bravery. And only one guy is man enough to still sport a mullet. In the 10 years since his fiancée was killed, special op MacGruber has sworn off a life of fighting crime with his bare hands. But when he learns that his country needs him to find a nuclear warhead that's been stolen by his sworn enemy, Dieter Von Cunth, MacGruber figures he's the only one tough enough for the job. Assembling an elite team of experts--Lt. Dixon Piper and Vicki St. Elmo--MacGruber will navigate an army of assassins to hunt down Cunth and bring him to justice. His methods may be unorthodox. His crime scenes may get messy. But if you want the world saved right, you call in MacGruber.
News & Interviews for MacGruber
Critic Reviews for MacGruber
Audience Reviews for MacGruber
½
[i]MacGruber!! Making life saving inventions outta household materials![/i] MacGruber MacGyver was originally a reoccurring character on the American TV show [i]Saturday Night Live[/i]. The character was created by SNL writer Jorma Taccone who also directed this movie. Actor Will Forte who portrayed the character of MacGruber (in both SNL and this movie) also wrote for the character alongside Taccone. If it isn't evident enough already, the character of MacGruber is of course based on, a parody of, the classic secret agent TV series [i]MacGyver[/i]. The idea behind MacGyver was an ex-special forces type bloke who worked for a fictional agency of the US government, and the fictional Phoenix Foundation. An expert in physics and physical sciences, he usually solves problems with his ingenuity and array of trusty everyday objects such as a penknife, duct tape, matches etc...So yes, essentially it was another version of the [i]A-Team[/i] but for adults. The idea behind MacGruber is of course to spoof this entire concept tenfold. The plot: Some baddies led by the dastardly Dieter Von Cunth (Val Kilmer) take possession of a nuclear warhead with the intention of using it to blow up Washington D.C. Col Jim Faith (Powers Boothe) hunts down MacGruber in order to enlist his help in stopping this act of terrorism. At first MacGruber declines, but after a nightmare surrounding the death of his fiancée (killed by Von Cunth), he agrees. But MacGruber has one condition, that he can use his own hand picked team. Faith agrees and MacGruber assembles his boys...only to accidentally kill them; so he ends up going with Lt. Dixon Piper (Ryan Phillippe) and Vicki Gloria St. Elmo (Kristen Wiig). The idea behind MacGruber isn't anything specifically new, we've all seen spoofs of action/secret agent movies, a lot of it comes down to Will Forte. Now I don't know a lot about Forte. I have seen the original MacGruber skits on SNL, but I didn't know of Forte before hand and I don't really know of anything he's done after. All I know is this guy really knew how to play this character, had him down to a tee. His arrogance, egotism, narcissism and juvenile behaviour; Forte handles this characters fragility with aplomb, he makes it look easy and fresh despite the fact its definitely not a fresh angle (I think we've all seen [i]Rambo[/i] spoofs before right? yup). [i]'Well then, I'll just have to put together my own dream team...of killer stoppers'[/i] I think the best example of the state of MacGruber's mind is when a passer-by hurls a rather tame insult at his car (a 1996 Mazda MX-5 Miata). MacGruber responses with his own tirade of (much worse) insults and that seems to be that. Later on Dixon comes across MacGruber's personal notepad and flips through it only to discover every page is covered with insane doodles of anger. Top to bottom, smothered with rantings and scribbles of rage. Clearly MacGruber is unable to take being mocked (despite dishing it out himself). It builds up inside him until he unleashes it upon the offender whom he eventually stumbles across (with his car). But watching MacGruber break down is a regular and hilarious occurrence in this movie. The man is essentially a selfish man-child and throws tantrums when things awry. When MacGruber is first introduced to Dixon he destroys him with insults. He sneers at Dixon despite Faith highly recommending him for his skills. Dixon wasn't good enough for MacGruber because he had his own team of commandos. That is until MacGruber accidentally blows his team up. After Faith shuts down the operation we then see the U-turn by MacGruber as he starts to literally beg on his knees, offering sexual favours to both Faith and Dixon for their help. Its both embarrassing and extremely funny watching MacGruber acting the tough guy, only for it to crumble and reveal his true inner self when it goes tits up. Again none of this is anything original, far from it, but its the way Forte does it. Yes the humour throughout this movie is somewhat childish and daft. Its toilet humour, sophomoric by the bucket load, but at times the craziness is just laugh out loud funny. When MacGruber distracts some bad guys by stripping naked and sticking a piece of celery between his butt cheeks. When MacGruber dresses Vicki up as himself for the sting operation he somewhat cunningly devised and delivered (not), its ludicrous. Then in the next scene they dress Vicki as one of Cunth's henchmen and Dixon disguises himself as MacGruber to infiltrate a warehouse. All the while MacGruber watches and waits in safety, having expressed to both partners that everything [b]should[/b] work just fine. Also the fact that MacGruber refuses to use guns (preferring to rely on household materials just like the SNL sketches and original TV series) for most of the movie...until he realises guns are actually cool to use. In comparison to the SNL skits I'd say the movie isn't quite as good simply because the incredibly short skits just worked better that way. Every skit was basically the same utilisng the same set, the same bomb to defuse, but with different characters helping MacGruber. Some sketches were self-contained micro stories, whilst some had a continuing storyline. But overall they were literally a few minutes long and were totally off the wall. Bite-sized nuggets of throwaway comedy. Having to extend this into a full length movie was always gonna present problems. Did they overcome these problems? Well sort of, whilst the movie is indeed enjoyable, its only really enjoyable in chunks. Naturally these chunks tend to be when Forte is front and centre doing his thing. The other characters are fine but not really that interesting. Its cool to see Kristen Wiig return from the skits but maybe they should of used some of the other characters too, like Darrel (Charles Barkley) or Kyle (Josh Brolin). Watching MacGruber struggling with political correctness and his clumsy racism towards Darrel (a Nordberg type character) is priceless; they really should have included more of that in the movie. I can see why the movie has become something of a cult, and I can also see why the movie bombed at the box office. For people not in the know this movie will have looked like regurgitated trash, which I fully understand. But that's a shame because this movie and its main protagonist are far wittier than most might expect.
Phil Hubbs
Super Reviewer
It's one joke, stretched over 90 minutes... I don't know that anyone expected this to be good, or really, what the purpose of writing a review about it would be. What you see is what you get: a series of decent gags, the occasional one hilarious, strung together lazily with something resembling a plot, in which MacGruber has to overcome his baggage and his incompetence in order to take down the villain, Dieter Cunth - great name - played by Val Kilmer, who is still alive, I guess... and to his credit, can still act decently. Kristen Wiig is always funny, and Ryan Phillippe is quite good as the straight man, too, but as most would anticipate, there's not much here. A forgettable indulgence.
Daniel Perry
Super Reviewer
I only own a film if I can watch it again and again and again and still enjoy it. Which I can do with this film. It's stupid and I think it's basicaly all the jokes Forte and Taccone couldn't get into SNL. But damnit it's funny. This was the first sign that Wiig was going to be the comdey Queen, even in movies.
Joshua Wilburn
Super Reviewer
MacGruber Quotes
| | |
| --- | --- |
| Vicki: | Wait.... Im a virgin |
| Vicki: | Wait, I'm a virgin. |
| MacGruber: | Shhhhhh...... not for long |
| MacGruber: | Shhhhhh... not for long. |
| | |
| --- | --- |
| MacGruber: | I'm gonna cut your dick off |
| MacGruber: | Cause after I disarm this nuke, I'm gonna cut off your dick and... |
| | |
| --- | --- |
| MacGruber: | Well I bet you wish your nose was a dick...so you could use it fuck butts! |
| | |
| --- | --- |
| Cunth: | I was talking to the missile. |