MacArthur
(1977)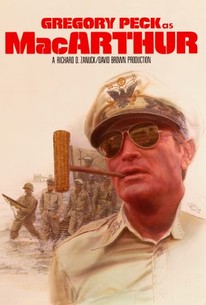 Movie Info
Star Gregory Peck went into MacArthur disliking the title character that he was slated to play, but emerged from the experience with a deeper understanding and respect for this complex historical figure. The film is framed in flashback, with an octogenarian General Douglas MacArthur (Peck) making his final address before his alma mater of West Point. We flash back to the fall of Corregidor in 1942, with MacArthur promising "I shall return" to the beleaguered (and eventually imprisoned) American and Filipino troops. The story follows MacArthur's subsequent victories in the South Pacific, occasionally pausing to show us the General's omnipresent sense of "showmanship" (e.g. his wading ashore on the beaches of the Philippines for the benefit of the newsreel cameras). The greater part of the film involves MacArthur's attempts to restore dignity to the defeated postwar Japan, and to keep the Russian Communists from overtaking the orient as they had Eastern Europe. MacArthur is eventually fired from his post by President Truman after the general defies orders during the Korean conflict. MacArthur was intended as Universal's "answer" to 20th Century-Fox's enormously successful Patton (1970), but box-office returns were disappointing.
Critic Reviews for MacArthur
Audience Reviews for MacArthur
Douglas MacArthur was one of the most famous Generals in the U.S Military. He was one of 5 generals to attain the rank of 5 star general. His life was a series of accomplishments almost attaining legendary status. This is a fine biopic of the late General, one that is effectively directed and acted. Gregory Peck delivers one of his strongest performances since his role of Atticus Finch in To Kill a Mockingbird. The film is directed by director Joseph Sargent who has previously helmed The Taking of Pelham One Two Three. This is a terrific war film that boasts a great cast, a well written script, effective dramatic elements and a plot that will certainly appeal to war film fans who desire to know the story of Douglas MacArthur. Peck commands the screen with such ferocious intensity that he is perfect for the part. I think it's hard to imagine someone else in the role; he truly has made it his own. I really enjoyed the film, but I felt that it was second only to Patton, which is the definitive war biopic of a U.S General. This would be second. The acting and plot just takes a hold of you, and you are entertained from the first frame onwards. There are a few aspects missing, but it's only natural that there couldn't be a longer film, because MacArthur's career was long and illustrious. For that this film is, it's an accomplished war biopic about complicated man, who was just as grand as he was flawed. To this day, MacArthur is a figure that is revered and criticized. The film shows in great part why he was like. He was a man that disobeyed orders from the very top, and had his own agenda on how to win a war. This is a fine film worth seeing if you want one of best military biopics after Patton of course.
Lots of insight into Douglas MacArthur the strategist, the tactician and the military commander - very little about Douglas MacArthur the man. I didn't learn anything about the General that I couldn't have gleaned from old newspaper clippings and newsreel footage.
Randy Tippy
Super Reviewer
Gregory Peck was an Awesome Actor. Watching his Movies still has a weird magical influence on me. A great Anti-War Movie
MacArthur Quotes
There are no approved quotes yet for this movie.