Machete Maidens Unleashed!
(2010)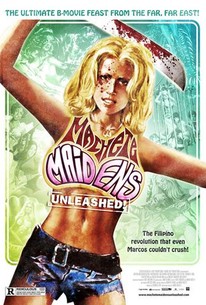 Movie Info
In the 1960s and 70s, drive-in movie theaters and big city grindhouses were eager to book the wildest and most action-packed fare they could find, and low-budget producers were always on the lookout for something unique to offer their viewers. Many of them found it in the Philippines, a country full of exotic locations, cooperative officials and folks willing to work cheap. Local producer Eddie Romero began exporting his cut-rate horror and crime pictures to American distributors in the 60s, and before long U.S. filmmakers were traveling there to shoot crazed jungle epics, women in prison thrillers, bloody horror stories and violent wartime dramas. It certainly helped that Philippine extras and technicians would work hard for low pay, and that local stuntmen didn't seem to worry much about risking their necks for a good shot; as one producer put it, "Human life was cheap, film was cheap -- it was a great place to shoot a movie!" Filmmaker Mark Hartley, who shared the crazed true story of the Australian exploitation movie scene in his documentary Not Quite Hollywood, shares the inside scoop on the wild and wooly world of filmmaking in the Philippines in the 1960s and 70s in Machete Maidens Unleashed! Featuring interviews with Gloria Hendry, Colleen Camp, Sid Haig, R. Lee Ermey, Roger Corman, Joe Dante, Allan Arkush and many more eyewitnesses to the madness of movie making in the Philippine jungles, Machete Maidens Unleashed! was an official selection at the 2010 Toronto International Film Festival. ~ Mark Deming, Rovi
Critic Reviews for Machete Maidens Unleashed!
Audience Reviews for Machete Maidens Unleashed!
Machete Maidens Unleashed is a good documentary for anyone fond of the exploitation movies of the 60's, 70's, and early 80's, as well as Roger Corman's movies in particular. Unlike the best documentaries, though, it won't hold much value for people who don't already have prior interest in the topic.
Jonathan Kaplan: We want frontal nudity from the waist up. Total nudity from behind. No pubic hair, go to work. "The Ultimate B-Movie Feast From The Far, Far East!" Machete Maidens Unleashed!, besides being an awesome title, is an entertaining look at the horrible and cheap movies that were made in the Philippines. I'd much rather watch a documentary that talks about the behind the scenes stuff than actually watch any of the movies that were talked about. Other than Apocalypse Now, I haven't seen one of the movies that was made in the Philippines, nor do I wish to. This documentary does a good job summarizing what every cheap movie that was made over there was trying to accomplish. Their going to show a lot of breasts, a lot of blood, a lot of terrible looking monsters, rape, torture, and any other tasteless form of bodily harm or sexual acts they can. Where this movie gets it's entertainment value from is with the interviewees. Joe Dante and John Landis in particular. These are two guys that I could listen to all day. Plus their real filmmakers that have good movies to their credit, that just know so much about these types of movies. Mostly because those B-Movies are what gave them their start. Then there's the man himself, Roger Corman. He has quite a bit of screen time as well, where he describes different projects that went on. Corman talking about the movies is much more interesting then the movies themselves. There's plenty of other interesting interviews also, such as Pam Grier and Sid Haig, plus a lot of no name actors, actresses, and directors that took part in the movies. This is a short fast paced look at filmmaking in the Philippines. It's definitely worth a look even if you're not a fan of the particular movies that this is describing. It sure isn't going to make you one, but it is going to give you an entertaining and humorous look at them nonetheless.
Melvin White
Super Reviewer
½
I remember first reading about this documentary way back when and, consquently, I was dying to catch a glimpse of it. Recently I got that chance, and Machete Maidens Unleashed! is just as much fun as I imagined it to be. Talking to a variety of Corman regulars, including Roger Corman himself, Joe Dante, Pam Grier, Sid Haig and also great interviews with people like John Landis, the documentary is mostly focused on Corman productions produced in the Phillipenes. The documentary is fast and furious, and doesn't stand still for a minute. It has a lot of energy, but it felt too short to me. That's a minor complaint, but it definitely seemed to go by too quickly and left me wanting more. Perhaps that's a good thing, or maybe it's not. It depends on your viewpoint, but if you're interested in movies like The Big Doll House, Women in Cages or The Big Bird Cage, then you're bound to love this documentary. It's gritty, honest and entertaining.
Tim Salmons
Super Reviewer
Machete Maidens Unleashed! Quotes
There are no approved quotes yet for this movie.