Machine Gun McCain
(1970)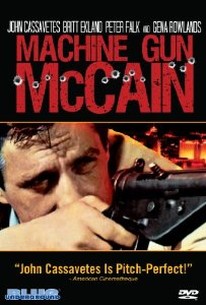 Machine Gun McCain Photos
Movie Info
A hardened criminal learns there's little loyalty on either side of the law in this drama from Italian director Giuliano Montaldo. Charlie Adamo (Peter Falk) is a rough-hewn but ambitious underworld kingpin who has taken control of the West Coast syndicates and wants a piece of the action in Las Vegas. Adamo's boss Don Francesco DeMarco (Gabriele Ferzetti) isn't happy about his plans to take over The Royal, a posh casino and hotel that's owned by the mob, and he's determined to put Adamo in his place. Meanwhile, a handful of young gangsters are plotting to rob The Royal of $2 million, and one of them, Jack (Pierluigi Apra), know just the right man for the job -- his father Hank McCain (John Cassavetes), better known as "Machine Gun McCain," currently serving a life sentence after a crime spree put him in prison twelve years earlier. The mob arranges for McCain to be released, and Jack escorts him to Las Vegas, where he runs into Irene (Britt Ekland), a young woman he meets in a bar and impulsively marries. McCain plans and pulls off an ingenious casino robbery, but he pulled the heist after his backers ordered him to abandon the robbery, and soon he's one of several characters on the run from the law and the mafia. John Cassavetes and Peter Falk struck up a friendship while working on Gli Intoccabili (aka Machine Gun McCain), and it was the first of several films the two actors would make together, most under the direction of Cassavetes, including Husbands, A Woman Under The Influence and Big Trouble.
Critic Reviews for Machine Gun McCain
Audience Reviews for Machine Gun McCain
½
Okay but ultimately pointless foreign lensed actioner. The great Gena Rowlands is in and out of this in under fifteen minutes and still manages to be the best thing in it by far. Peter Falk is similarly underutilized. They and Cassavetes must have signed on to this to get money for one of his independent directoral efforts. Britt Ekland is beautiful but given little to do. If you favor heist movies this is an acceptable time passer but nothing more.
½
like an odd combination of other films that came before it. there were a lot of things about this that didn't work, but it was enjoyable and the morricone score is one of his best.
Machine Gun McCain Quotes
There are no approved quotes yet for this movie.