Machine Gun Preacher
(2011)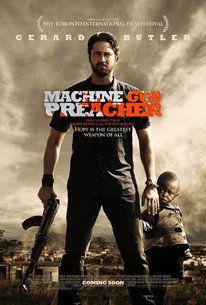 TOMATOMETER
AUDIENCE SCORE
Critic Consensus: There's a complex man at the center of Machine Gun Preacher but the movie is too shapeless and emotionally vacant to bring his story to life.
Machine Gun Preacher Photos
Movie Info
When ex-biker-gang member Sam Childers (Butler) makes the life-changing decision to go to East Africa to help repair homes destroyed by civil war, he is outraged by the unspeakable horrors faced by the region's vulnerable populace, especially the children. Ignoring the warnings of more experienced aide workers, Sam breaks ground for an orphanage where it's most needed-in the middle of territory controlled by the brutal Lord's Resistance Army (LRA), a renegade militia that forces youngsters to become soldiers before they even reach their teens. But for Sam, it is not enough to shelter the LRA's intended victims. Determined to save as many as possible, he leads armed missions deep into enemy territory to retrieve kidnapped children, restoring peace to their lives-and eventually his own. -- (C) Relativity Media
News & Interviews for Machine Gun Preacher
Critic Reviews for Machine Gun Preacher
Audience Reviews for Machine Gun Preacher
Somewhat in the veins of Blood Diamond, this one fared well enough for me, though not as good as Blood Diamond. The cast gave excellent performance, and the execution was good enough to restrain it from becoming too preachy. Being too loud, I didn't like the Hallelujah parts.
familiar stranger
Super Reviewer
Real life stories make for some very good films. Now I've had reservations about seeing Machine Gun Preacher due to the fact that Gerard Butler has made a few duds over the last few years, and his last good films were Gamer and Law Abiding Citizen. For Machine Gun Preacher, Butler goes back to a more serious role as Sam Childers. The film focuses on Childers life and how he went from a criminal to someone trying to find salvation by helping others in need. Childers went to Sudan to help children that were orphaned due to civil war. Although not a flawless film, Machine Gun Preacher is a worthwhile film that is in my opinion quite underrated. Gerard Butler delivers a strong and powerful performance that is quite possibly the best of his career. The film is a mix of action and drama, and director Marc Forster does a good job with the material to capture Childers's life, but considering that he had such a unique life, the film could have been a bit better as well. In terms of a good biopic, this tells a compelling story and it is well acted. Butler redeems himself with this role due to the fact that he played in a few boring and unimpressive chick flicks. I very much enjoyed the film, but there were a few areas where the film could have been better. However there are enough good elements to make this one worth seeing. The film is very good, and is quite eye opening as well. As a whole, it is a flawed film but it is a well executed action drama that delivers something memorable.
½
An outstanding movie that packs insanely powerful punch. It`s an inspirational classic of a rebel who found his cause. A genuine human drama that cuts you to the core with its realism and story. An utterly heartbreaking, inspiring and action-packed drama. A riveting, deeply moving and extremely powerful movie. Director, Marc Fosters best film since The Kite Runner, he`s a true artist and craftsman. An absolute triumph. An incredible and unforgettable film that shakes you, shocks you and inspires you. It`s spectacular in every way you can think of and is simply extraordinary. Gerard Butler gives the best performance of his career, an explosive tour de force performance that shines with his movie star caliber. Butler delivers in a massive way that's shows his power, passion, emotion and strength. Michael Shannon and Michelle Monaghan give fine performances. An embracing, compelling and astonishing piece of work. An exhilarating mixture of thrills, explosive action and deeply absorbing drama.
Machine Gun Preacher Quotes
| | |
| --- | --- |
| Daisy: | The only thing necessary for the triumph of an evil is for a good man to do nothing. |