The Mack
(1973)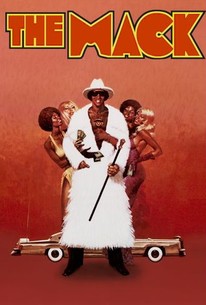 Movie Info
A box-office success during the early '70s, this blaxploitation flick traces the life of a Bay Area pimp facing drug dealers, crooked cops and fellow pimps ready to settle a few scores. Richard Pryor makes a small appearance as Slim.
News & Interviews for The Mack
Critic Reviews for The Mack
Audience Reviews for The Mack
½
Some don't feel like this is a Blaxploitation film, as it is far better in quality and content than most of those films. I disagree though. It came out in 1973, is about a pimp and his struggle with the MAN, and is a black film through and through. I think it definitely counts. It just happens to be very high end. Having a good sized budget and the distinction of looking good help. It also really helps that the film is quite well witten, features terrific performances, and that the subject matter is handled in a good way that many lesser films fail at doing. His role isn't as big as I thought, but Richard Pryor does a really good job here in a nice and serioud dramatic role. Max Julien is excellent though. He's a guy you really feel for, and want to see him succeed. Unlike a lot of movies about pimips, this one isn't really exploitative with the subject matter. It's a lot like "Willie Dynamite" in that regard. This is probably though, the movie that started it all let's say, when it came to brining the profession of pimping into the mainstream. Besides great perforances, a good look, and a well-written script, this movie just excells in the substance department. This is not a kitschy film. It treats the subject matter with respect, while simultaneously being about something, and providing reasons for the action. The message isn't necessarily a new one, but it's done well and I think this is a movie that scholars could find a lot to chew on (both positively and negatively, but I would mostly hope positively). I really like the soundtrack too. Willie Hutch's music is awesome. He also did the music for "Foxy Brown". They're probably hard to come by, but i would love the get the soundtracks for both this and that. All in all, a quite excellent Baxploitation film that is actually accessible to all audiences, and suprisingly good given the sbject matter and the belief that this might be some sort of kitschy, silly mess.
Chris Weber
Super Reviewer
I didn't watch the entire movie, I got bored, but I've heard good things about it, so I think I may give it another try.
This movie is a classic of blaxploitation movies. It's also a must see for crime movies fans because it's theme is not so frequent in a crime movies and I can't understand why because pimping is one of the most popular criminal activities. I've seen some other films about pimps but there a pimping wasn't a main theme. This movie is all about a pimping. There are many interesting dialogs and monologues and also a discussions about pimping. Max Julien did great as a Goldie. I also liked Richard Pryor's performance but he didn't get much of a show. So if you are crime movies fan you must see this film because it's one of a few which talks about pimping so openly.
Cassandra Maples
Super Reviewer
The Mack Quotes
| | |
| --- | --- |
| Pretty Tony: | Next time you hear grown folks talkin' shut the fuck up...hear. |
| Pretty Tony: | Next time you hear grown folks talking, shut the fuck up, you hear? |
| Pretty Tony: | Next time you hear grown folks talking, shut the fuck up, you hear? |