Mad Cowgirl
(2006)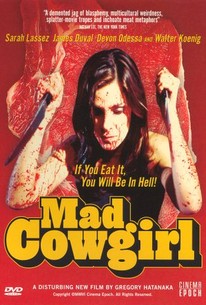 Movie Info
A disturbed health inspector begins a surreal descent into madness when her marriage fails, her mental health begins to plummet, and her obsession with kung fu movies drives her to seek vengeance against the Ten Tigers from Kwangtung in director Gregory Hatanaka's experimental psychological thriller. Therese's (Sarah Lassez) life is falling apart; her husband has abandoned her, her affair with a sleazy televangelist has left her sexually frustrated, and her brother may have poisoned her with some particularly bad meat. Now, as Therese begins to succumb to her all-consuming nymphomania and her doctor begins to suspect that there truly is something wrong despite her outwardly healthy appearance, the delusional slaughterhouse inspector begins the rigorous training that will allow her to take on the dreaded Ten Tigers from Kwangtung in an all-out bloodbath that could claim the lives of more than a few of her recent lovers.
News & Interviews for Mad Cowgirl
Critic Reviews for Mad Cowgirl
Audience Reviews for Mad Cowgirl
½
Pleasantly surprised by this zany underground film about the downward spiral of a meat packer suffering from mad cow disease. It took influence from Hong Kong cinema with some erotic thriller and a touch of religion. It's hard to describe the film but it is a must watch for people interesting in cult films.
Sylvester Kuo
Super Reviewer
½
Strange, confusing, disturbing. But you gotta hand it to the director, he creating a low budget but very watchable film. Oh, and what's needed in films these days: originality. It's low budget, but understandably so, as it is something you won't see out of "Hollywood", which is why we should have actual independent films. Anyway, it's done with competence and although I was confused and disturbed, I still enjoyed and appreciated it.
Patrick Dolan
Super Reviewer
This movie really stands out from all the rest that screened in San Francisco. Enough buzz to gain a special third screening! My husband and I were stunned when we saw it. It's was such a refreshing experience! It totally shakes your mind as the movie leads to more sweet madness and hilarious absurdity for Therese (played with such bravery by Sarah Lassez). And, despite its novelty, it's a well-acted and, surprisingly, dramatically-driven movie, too! When we thought it was all over, the last part of the movie totally pays off! Whether it's a statement of our current socio-political culture or our fascination of all things entertainment, it's just riveting. A food for thought, perhaps? One thing for sure, this movie totally rocks!
Cassandra Maples
Super Reviewer
Mad Cowgirl Quotes
There are no approved quotes yet for this movie.