Mad Max 2: The Road Warrior
(1982)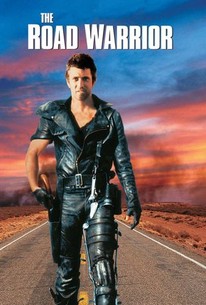 TOMATOMETER
AUDIENCE SCORE
Critic Consensus: The Road Warrior is everything a bigger-budgeted Mad Max sequel with should be: bigger, faster, louder, but definitely not dumber.
Mad Max 2: The Road Warrior Photos
Movie Info
Director George Miller's follow-up to his own 1979 hit Mad Max is proof that not all sequels are inferior to their originals. If anything, this brutal sci-fi action film is even more intense and exciting than its predecessor, although the state of its post-apocalyptic world has only become worse. Several years after the deaths of his wife and child, Max (Mel Gibson) has become an alienated nomad, wandering an Australian outback that has fallen into tribal warfare conducted from scattered armed camps. After a road battle with psychotic villain Wez (Vernon Wells), Max meets up with the odd Gyro Captain (Bruce Spence), who takes him to the camp of a sympathetic group led by Pappagallo (Mike Preston). As Pappagallo's people are camped at a refinery, Max plans to take their oil -- more precious than gold in this world -- but eventually joins them to fight a band of marauders led by the evil Humungus (Kjell Nilsson). The stunning climax features a heart-pounding chase scene involving an oil tanker-truck and a frenzied rush for the coast, with Humungus and his forces in hot pursuit. Nilsson is a scary villain, with huge muscles and a sinister pre-Jason hockey mask, but the stunt work is the key here, and it is more flamboyantly dynamic than ever, edited at breakneck pace and staged with manic fury by Miller and stunt coordinator Max Aspin. Savage and kinetic, Mad Max 2 is a must-see for action buffs. ~ Robert Firsching, Rovi
News & Interviews for Mad Max 2: The Road Warrior
Critic Reviews for Mad Max 2: The Road Warrior
Audience Reviews for Mad Max 2: The Road Warrior
Mad Max 2: The Road Warrior is a much better action film than its predecessor, but lacks a human element that was present in the original film. Outside of that one complaint, this is a better film in every way compared to the original. Better stunts, action sequences, special effects, cinematography, and pacing. The craftsmanship of this film is incredible and deserves applause. Mel Gibson doesn't get to do as much in this one and basically just walks around brooding, but the character is a certified bad ass. Since there's barely a story, the action is plenty and spectacular. Adrenaline junkies will love this. The Road Warrior is the rare superior sequel to a good film.
Josh Lewis
Super Reviewer
½
It may frustrate viewers looking for a well-defined plot, but for those who love fast cars and roaring engines, thrilling action and exciting stunts, it is as great as it can be, with exceptional post-apocalyptic sets and costumes that make everything look so over-the-top and unique.
Carlos Magalhães
Super Reviewer
Mad Max 2: The Road Warrior fuels up with even bigger spectacles and sequences of action and mayhem. George Miller escalates his post-apocalyptic sequel with gut-wrenching direction, a solid story, Mel Gibson's charm and a satisfying improvement above its predecessor. 4/5
Eugene Bernabe
Super Reviewer
Mad Max 2: The Road Warrior Quotes
| | |
| --- | --- |
| Mad Max: | You wanna get out of here? You talk to me. |
| | |
| --- | --- |
| Mad Max: | Two days ago I saw a vehicle that would haul that tanker. You wanna get outta here? Talk to me. |
| | |
| --- | --- |
| Mad Max: | [Max loads his shotgun with a shell found on a dead body] |
| Gyro Captain: | How do we know that one's not a dud? |
| Mad Max: | [Max aims at the Captain's face] Find out. |
| | |
| --- | --- |
| Mad Max: | I'm just here for the gasoline. |