Mad Max Beyond Thunderdome
(1985)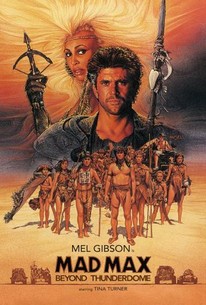 TOMATOMETER
AUDIENCE SCORE
Critic Consensus: Beyond Thunderdome deepens the Mad Max character without sacrificing the amazing vehicle choreography and stunts that made the originals memorable.
Mad Max Beyond Thunderdome Photos
Movie Info
About 15 years after the events of Mad Max 2, nuclear war has finally destroyed what little was left of civilization. Grizzled and older, former cop Max (Mel Gibson) roams the Australian desert in a camel-drawn vehicle -- until father-and-son thieves Jebediah Sr. (Bruce Spence) and Jr. (Adam Cockburn) use their jury-rigged airplane to steal his possessions and means of transportation. Max soon winds up in Bartertown, a cesspool of post-apocalyptic capitalism powered by methane-rich pig manure and overseen by two competing overlords, Aunty Entity (Tina Turner) and Master (Angelo Rossitto), a crafty midget who rides around on the back of his hulking underling, Blaster (Paul Larsson). Seeking to re-equip himself, Max strikes a deal with the haughty Aunty to kill Blaster in ritualized combat inside Thunderdome, a giant jungle gym where Bartertown's conflicts are played out in a postmodern update of blood and circuses. Although Max manages to fell the mighty Blaster, he refuses to kill him after realizing the brute is actually a retarded boy. Aunty's henchmen murder Blaster nonetheless, then punish Max for violating the law that "Two men enter, one man leaves." Lashed to the back of a hapless pack animal and sent out into a sandstorm, a near-death Max is rescued by a band of tribal children and teens. The descendants of the victims of an airplane crash, the kids inhabit a lush valley and wait for the day when Captain Walker, the plane's pilot, will return to lead them back to civilization. Some of the children, refusing to believe that Max isn't Walker and that the glorious cities of their mythology no longer exist, set off in search of civilization on their own. Max and three tribe members must then rescue their friends from Bordertown and the clutches of Aunty Entity -- a quest that ends in a lengthy desert chase sequence that echoes the first two Mad Max films. Spence also appeared in Mad Max 2 in a different role, that of the Gyro Captain. ~ Brian J. Dillard, Rovi
News & Interviews for Mad Max Beyond Thunderdome
Critic Reviews for Mad Max Beyond Thunderdome
Audience Reviews for Mad Max Beyond Thunderdome
½
It fully embraces the extravagant "pox-ecliptic" over-the-topness that had already been injected into Mad Max 2 and made that film so visually unique, thus being more entertaining than the previous movies even if more cerebral and less action-oriented (or perhaps because of that).
Carlos Magalhães
Super Reviewer
½
Often unfairly seen as the weakest of the series, it is actually the most fun. Sure, the action doesn't start until very late (but really delivers then), but the quirky ideas, outrageous production design and world building make this a highlight of the series. It also helps that two great Tina Turner songs frame the film, making it an 80s lovechild in post-apocalyptic clothes.
½
Not sure what happened here, but this is not the Mad Max I remember from the first two films. It makes sense though because after doing some research this wasn't originally a Mad Max film, but rather a Lord of Flies film. They changed their mind and had George Miller direct the stunts (which there's barely any compared to the first two films) and had George Ogilvie direct the actors. The first half of the film was fine, but the second half is boring, uneventful, and messy. You can tell there's two different ideas clashing because none of the second half of the film matches anything else in the franchise. I've seen people call this Mad Max for children and that is rather accurate. This just doesn't feel like it belongs with the first two at all. A sad way to end the original Mad Max series before it got rebooted.
Josh Lewis
Super Reviewer
Mad Max Beyond Thunderdome Quotes
There are no approved quotes yet for this movie.