The Mad Monster
(1942)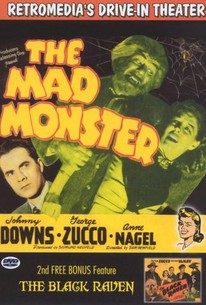 AUDIENCE SCORE
Critic Consensus: No consensus yet.
Movie Info
A well-meaning but rather loony scientist attempts to create the ideal, super-human soldier by using a serum derived from wolf's blood. Instead, the formula transforms its subjects into man-eating werewolves. Much bloody carnage ensues in this rather campy horror cheapie.
Critic Reviews for The Mad Monster
There are no critic reviews yet for The Mad Monster. Keep checking Rotten Tomatoes for updates!
Audience Reviews for The Mad Monster
½
Super low-budget PRC variation on Universal's The Wolf Man from 5 months earlier. Doing away with any sort of larger mythology that Curt Siodmak developed, this is a simple case of a mad scientist (George Zucco) injecting wolf blood into his simple-minded manservant to create a soldier with animal strength. Dr. Cameron (Zucco) plans to use the hulking creature as a tool for revenge too. Glenn Strange, who would later portray Frankenstein's monster several times for Universal, gets to stalk the forest at night and growl as a massive werewolf here. It is quite unbelievable and unintentionally funny when Zucco's character tosses away a whip and straddles Strange's character multiple times to give the super-human monster a sedative. The DVD sleeve from the 50 Movies Horror Classics box set I own says, "The scientist's daughter Lenora grows wary of her father's actions and shares her suspicions with a newspaper reporter. When the scientist loses control of his creature, it falls upon the scientist's daughter and the reporter to stop it." That is almost entirely false. While the daughter does grow suspicious, the reporter learns of the murdering beast on his own, and the two young people have no part in stopping it. The scientist's revenge plot barely holds the picture together.
Byron Brubaker
Super Reviewer
Early science fiction horror film about a mad scientist's experiment to create a wolf man gone wrong. Essentially a rip off on The Wolf Man to cash in its fame.
Sylvester Kuo
Super Reviewer
The Mad Monster Quotes
There are no approved quotes yet for this movie.