Madagascar
(2005)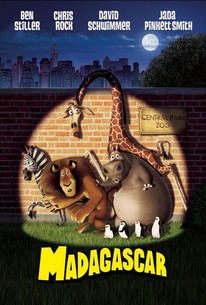 TOMATOMETER
AUDIENCE SCORE
Critic Consensus: Though its story is problematic in spots and its humor is hit-or-miss for the adult crowd, Madagascar boasts impressive visuals and enough spunky charm to keep children entertained.
Movie Info
Four zoo animals are shipped back to their homeland by an animal rights group that feels they belong in the wild. When the ship capsizes, the animals find themselves stranded in Madagascar. Having had humans care for them their entire life, they know nothing about survival and must work together with the locals to help them fit in.
News & Interviews for Madagascar
Critic Reviews for Madagascar
Audience Reviews for Madagascar
A mediocre CGI animation that was clearly conceived to please children and children only yet no one cared to make it remotely interesting for adults as well, offering a sub-par plot full of pedestrian jokes, annoying characters and silly pop references that get tired real fast.
Carlos Magalhães
Super Reviewer
Over the years some films begin to deterierate and lose their flare they once had. As so many Dreamworks film have done now (proven their worth), "Madagascar" feels like one of the weakest attempts from them since the beginning of their animation stages. I used to think this film was short and sweet, and while it still remains a fairly short picture, "Madagascar" just does not hold up in the story department. When one of their group decides to visit the wild, they end up joining him against their will and adventures and betrayals occur. It is definitely not an original story, but this type of story can usually work in a kids film right? Wrong. "Madagascar" has a few laughs here and there, but the film is ultimately boring. A very disappointing film.
½
Dreamworks hit back with an animated tale about lovable zoo animals trying to escape to the wild. Always one step behind the mighty Pixar this feature seemed to be an attempt to try and combat the ever increasing list of Pixar classics that just kept on coming. A curious blend of ideas really, the whole film is made to look quite sensible in terms of how things should look in reality. But there is a kind of Tex Avery/Chuck Jones feel to the main characters that is quite nice but also someone childish compared to the backgrounds and vista's we see. You then have the set up that the animals can all talk to each but not to humans, yet they can perform human acts without question. The film slides from slightly emotional to sensible to most of the time outright off the wall. The plot is childishly simple naturally but it works OK, it actually gets a little twisted once Alex the lion goes savage when his animal instinct kicks in. Problem is once the animals break out from New York the film becomes very average very quickly. Seeing how the animals live within their city dwelling was pretty good and made for some good clever laughs, nothing hilarious I might add but it worked. The animals using the subway and at one point getting kicked in the nuts by an old lady does push the boundaries of even this fantasy. Unfortunately even that can't top the dreadful Lemurs they encounter on Madagascar, their leader for some reason given an Indian accent which is hideously unfunny. The penguins were by far the best of the bunch for me as a small squad of military types led by Skipper who sounds remarkably like Zap Brannigan from 'Futurama'. I can see why they got their own spin off. The rest of the animals are voiced well by a good team of big names but they aren't overly interesting really. Rock is plain annoying and that's the end of it, whilst Schwimmer is surprisingly well matched as the hypochondriac giraffe. Stiller does what he does in pretty much everything he's in, its fine. Overall a very bright start but it just fades into a bland generic mess that includes a god awful hip hop sequence. The animation is fair, some smart visual gags here and there and the penguins are a great success but apart from that its all very meh. The impression I got was no one was sure which way they wanted to go with this film, so many alternative ideas colliding, bit of a mess.
Phil Hubbs
Super Reviewer
Madagascar Quotes
| | |
| --- | --- |
| Marty the Zebra: | Oh sugar honey ice tea! |
| | |
| --- | --- |
| Marty the Zebra: | When a zebra's in the zone, leave him alone! |
| | |
| --- | --- |
| Alex the Lion: | Marty! |
| Marty the Zebra: | Alex! |
| Alex the Lion: | Mar- |
| Marty the Zebra: | Alex? |