Madam Satan
(1930)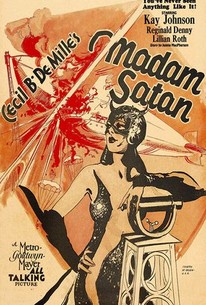 Movie Info
Cecil B. DeMille's only musical is the tale of an urban socialite (Kay Johnson) who masks herself as the steamy 'Madame Satan' to win back her husband (Reginald Denny) from the arms of a chorus girl (Lillian Roth). In a hilarious scene involving a zeppelin about to crash, the husband rides the craft down to the earth, only jumping off (and into a Central Park pond) at the last instant. Madame Satan's other highlights include garish costumes and several dance routines directed by LeRoy Prinz.
Critic Reviews for Madam Satan
Audience Reviews for Madam Satan
The first part of this movie is just awful, and I think everyone but the most forgiving of viewers will find themselves rolling their eyes, cringing, or maybe even snoozing. The acting is poor, the cadence of the dialogue awkward, and character motivations often nonsensical. All I can say is, stick with it. There is silliness throughout the movie, but it gets much more entertaining as it develops, and there are some pretty wild scenes that ultimately made me like it, somewhat to my surprise. The premise of the movie is an age-old theme; a wife (Kay Johnson) does not like her husband's late nights boozing it up and philandering (he's played by Reginald Denny), while he doesn't like her coolness and lack of passion. "Don't you understand? Love can't be kept in cold storage. It's a battery that has to be recharged every day," he says, with clear sexual overtones. However, she's aware that he's having an affair, having found a note from his mistress (Lillian Roth) after he comes home drunk with a buddy (Roland Young). As a little indication of the silliness, the two men are sloppy to the point that they're showering with one another with their clothes on. Husband and wife argue and separate, even though it's clear they still love one another. Lillian Roth really lights up the screen and gives the movie its first real spark with her short musical number, "Low Down", shaking her hips and twirling about with a top hat (Google this one for a treat). When Johnson confronts Roth at the end of a mostly insufferable scene where all four principals are in her apartment, Roth points out that men, including Johnson's husband, appreciate her spiciness and fun. "What do I give him? I laugh when he does. I drink when he does! I give him a pal with lips to kiss and shoulders to hug. I give him a dream made out of perfume and soft lights. I jazz all the dullness out of his soul for him!" she says, warbling with a voice that sounds like pure 1930. Johnson vows to "raise her temperature" to win her husband back, and storms out. It's at this point that the movie gets good. Cut to a masquerade ball on a dirigible (of course!). The outfits (designed by Adrian) are wild, and the opening musical number is as well. Roth is getting a lot of attention from the men until Kay Johnson makes her dramatic appearance. Her transformation into 'Madame Satan' is excellent, and she really pulls off dressing up as a vixen, slinking around in a sexy outfit. Her husband finds himself attracted without knowing who she is, and things get crazy when the weather gets stormy. Suddenly we find ourselves in a disaster movie, and seven years before the Hindenburg. Director Cecil B. DeMille botched the first half of the movie, but really makes up for it in the second, with lots of nice moments, drama mixed with comedy, and risqué dialogue. The male performances from Denny and Young are pretty poor, but Roth and Johnson (when she's Madame Satan) make up for it. I may be rounding up a bit, but weirdly, I wound up liking it, and would watch it again.
Antonius Block
Super Reviewer
Madam Satan Quotes
| | |
| --- | --- |
| Trixie: | How did you know me? |
| Roman Senator: | I knew you by your appendix scar. |
| Bob Brooks: | Excuse me sir, but would you mind explaining that last remark? |
| Roman Senator: | Well you see, I was her surgeon. |
| Bob Brooks: | Oh, I beg your pardon. It's alright Darling. |
| Zeppelin Reveler: | Are you a surgeon? |
| Roman Senator: | No, I'm a stockbroker. |
| | |
| --- | --- |
| Miss Conning Tower: | That's the spirit of modern power. |
| Miss Conning Tower: | You mean - that's the power of modern spirit! |
| Miss Conning Tower: | note to editor: these lines were spoken over the scene where the attendees are boarding. No characters are indicated as speaking the lines. |