Made
(2001)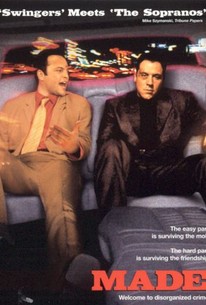 Movie Info
In this reunion of Swingers co-stars Jon Favreau (making his feature directorial debut) and Vince Vaughn, the two star in a new Mob comedy set in the underbelly of New York City. Favreau plays Bobby, an aspiring boxer who has a lackluster record but refuses to give up his lifelong dream. Ricky (Vaughn) is a loose cannon hanger-on who dreams of breaking into the mob. When Bobby begins to get close to old-time Mob boss Max (Peter Falk), Ricky believes it is a way into organized crime. Max is more interested in Bobby carrying out orders, but he allows the two to perform a job In New York under the supervision of a smooth crime lord (music mogul Sean Combs). Ricky then is powered by the idea that he and Bobby are bigwigs in their new community of acquaintances and begins to assume the role of a high roller -- at the expense of his friend. Made, also written by Favreau, also features Sopranos regular Vincent Pastore, Famke Janssen, and Faizon Love in supporting roles.
News & Interviews for Made
Audience Reviews for Made
½
[img]http://images.rottentomatoes.com/images/user/icons/icon14.gif[/img] A very interesting crime comedy premise is paired up with first time director Jon Favreau and a hugely energetic Vince Vaughn who is absolutely at the top of his game to make a forgettable but consistently funny flick. The key to what makes it work is the quirky chemistry between Favreau and Vaughn. In recent years both of their careers have turned. Favreau went on to direct Iron Man and Iron Man 2, and Vince Vaughn started to appear in unfunny, sloppily made comedies. Vaughn has only made a few funny movies in recent years, I found Wedding Crashers funny and his performance in the Will Ferrell comedy "Anchorman" very amusing but he's also appeared in stinkers like "Four Christmases" and "The Break Up". In addition to that "Dodgeball" which everyone other than me seems to like. Favreau on the other hand has had a sucessful career but I prefer him when he's making comedies as well-executed, witty and stylishly made as, well, "Made". It can go from being light-hearted to dark in a small matter of seconds but it still manages to be both emotionally engaging and at other times simply hilarious. The direction by Favreau is fantastic for a debut and the script is full of great one liners and visual gags. It may not be tremendously remarkable but it naturally succeeds in achieving it's comedic aims and heights. Following their roles in "Swingers" the stars yet again prove that they can make shtick like this work easily with their outstanding merit, massively talented.
Directors Cat
Super Reviewer
½
Ricky Slade: I'm a tall drink of water, I gotta stretch my shit out.  "Welcome to disorganized crime" Made is the re-teaming of Swingers stars Jon Favreau and Vince Vaughn. It's also the directorial debut from Favreau. Now, if you liked Swingers, and odds are you do, then more than likely you will enjoy Made too. It looks, feels, and sounds a lot like Swingers. What wins you over is the same thing that did the first time around and that would be the chemistry between Favreau and Vaughn. They're great on screen together. Made follows two friends as they are sent on a job by a small crime boss. They aren't given many details as to what they are going to do on this job. Vaughn again plays the partying womanizer, while Favreau again plays the less obnoxious friend. Along the way, Vaughn's character gets the two into a little trouble, with his loud mouth and his need for attention. I may like the storyline for this one better than Swingers, but I don't like the movie as a whole, more than Swingers. There's a lot to like from this film. It has extremely funny dialogue and situations. Favreau and Vaughn are funny together, and there is a good role from P Diddy. Overall it's just a really fun movie, which is exactly what you would expect. It may not be one of the best crime comedies out there, but it is better than average. 
Melvin White
Super Reviewer
Probably the funniest movie i've seen at this point of my existence. probably the funniest movie you will see this week if you pull your head from your ass and give it the same fair chance you gave to I Am Number Four. Vince Vaughn looks cool in any suit. he makes the word "fuck" sound like poetry to my ears. Jon Favrauaeuraue needs to stop dicking around with directing action movies and comic book bullshit and write another script. Faizon love has comedic timing because he is a a real actor and not another fat, bald, black man picked from a club in L.A. to be in films. i would be honored if Peter Falk asked me to shave his wrinkled balls for two bucks at a Republican rally because he is a real actor in a sea of imposters. jesus man, even P. Diddy has a few funny moments. and the little girl never laughs at Vince Vaughn and neither does anyone else which means... what? That this movie knows his character is a prick and does not know he is funny which creates tension and then sympathy for the other characters which is why a man falling on something and getting his balls hurt and going, "mother-- ooohoooo!" has not made me laugh in quite a while.
Coxxie Mild Sauce
Super Reviewer