Made for Each Other
(1939)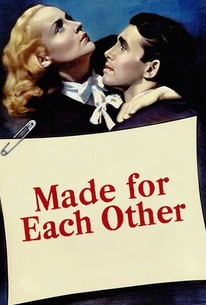 AUDIENCE SCORE
Critic Consensus: No consensus yet.
Made for Each Other Photos
Movie Info
James Stewart and Carole Lombard star in this comedy-drama about the struggles of a young married couple directed by John Cromwell. Stewart and Lombard play a recently married couple, Jane and John Mason. John works as an attorney for the law firm of skinflint Judge Doolittle (Charles Coburn). Doolittle calls John back to work immediately after the wedding ceremony, forcing the couple to abandon their honeymoon. But John is ready to do Doolittle's bidding, since he hopes to become a partner in the firm. Doolittle is openly disappointed at the marriage, hoping John would have instead married his daughter Eunice (Ruth Weston). Eunice eventually marries another lawyer in the firm, Carter (Donald Briggs). John and Jane try to make ends meet and invite Doolittle, Eunice, and Carter to dinner. The dinner turns into a disaster, climaxing with Doolittle informing John he has decided to make Carter a partner in the firm. Crushed, John and Jane work hard but to no avail, sinking deeper and deeper into debt. Jane has a baby, but when the child becomes seriously ill, the only way to save the baby is to have a special serum flown in through a blizzard from Salt Lake City. John needs $5000 to hire a pilot and get the medicine, and his only hope is to beg Judge Doolittle for the money.
Critic Reviews for Made for Each Other
All Critics (4) | Fresh (4) | Rotten (0)
The mixture of comedy and drama was a rarity for its time, leaving you very connected to the characters and rooting for their success.
Dated and absurd soap opera that surprisingly still works mainly because of the good chemistry between co-stars James Stewart and Carole Lombard.
Stewart is touching as a man who feels completely powerless to provide for his wife or to improve his standing.
Audience Reviews for Made for Each Other
It's sad seeing good actors wasted in such a mediocre film. Not to mention the ludicrous american family, middle-class ideological core that lies behind the bad script.
George Matalliotakis
Super Reviewer
½
It's realistic and the actors are good, but the story isn't exciting, it's a boring drama, more like watching real life than a movie, at least the ending was okay, but overall it's pretty boring.
If you see this for the 1st time now, you'd probably think "How derivative is THIS!?!?" And it seems to be...a man and woman get married, they have problems with money and whatnot, she gets preggers, the baby gets sick and there's a rush against the clock to get the meds before said baby cashes in. Only you'd be dead wrong. It's the OTHER million films you've seen this in since this one was released that are derivative. And this one is just about the best of the lot, made during that magical year of 1939 like it was. What movie WASN'T good that was released in 1939? I'll expect the answers to that question typed, double-spaced and turned in on my desk first thing in the morning. ;)
Made for Each Other Quotes
There are no approved quotes yet for this movie.