Made in Britain
(1982)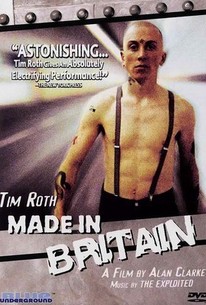 AUDIENCE SCORE
Critic Consensus: No consensus yet.
Movie Info
Director Alan Clarke's influential television drama Made in Britain marked the screen debut of actor Tim Roth. Roth plays Trevor, a skinhead with a swastika tattoo on his forehead who lashes out verbally and sometimes physically at everything that surrounds him. Cinematographer Chris Menges (who would go on to win Oscars for his work on The Killing Fields and The Mission), gets his camera right in Roth's snarling face, as the film tracks Trevor's progress through the British justice system. In the courtroom, charged with attacking a Pakistani man and vandalizing his store, Trevor displays absolutely no remorse as he matter-of-factly admits that he knew the man would have to be hospitalized for his injuries. Trevor's social worker, Harry (Eric Richard), recognizes Trevor's intelligence, but he's running out of ways to convince Trevor to straighten out his life. Harry takes him to a juvenile detention center for "assessment," after which he'll be sentenced. Trevor immediately dismisses Peter (Bill Stewart), the put-upon supervisor of the center, as a "wanker." He meets his black roommate, Errol (Terry Richards), whom he quickly convinces to come out with him on a car-stealing, glue-sniffing, job-center-vandalizing day trip. Brazenly returning to the detention center in a stolen car, Trevor eventually provokes Peter into locking him in a classroom, so a police superintendent (Geoffrey Hutchings) can harangue him about the hopeless path his life is taking. Trevor refuses to accept the center's (and society's) standards for "good behavior," raging that they all just want everyone to follow the rules and keep their mouths shut. The script was written by David Leland (Wish You Were Here) and the songs on the soundtrack are by the anarchist hardcore band the Exploited. ~ Josh Ralske, Rovi
Critic Reviews for Made in Britain
There are no critic reviews yet for Made in Britain. Keep checking Rotten Tomatoes for updates!
Audience Reviews for Made in Britain
½
Tim Roth's tour-de-force debut role. The film itself has little to nothing to say. Gritty cinematography with cold and sloppy storytelling. Roth, again, is mesmerizing.
Pierluigi Puccini
Super Reviewer
½
Wow. America doesn't get made-for-TV movies like this one. This was Tim Roth's first role, and he comes out blazing with his portrayal of Trevor, a belligerent skinhead who's constantly on the edge of lashing out. Unsurprisingly, he is repeatedly in trouble with the law, and the plot chronicles his final, defiant steps over the line in setting his life permanently off course. The mood is a bit one-note, unfortunately. There is little insight into what makes Trevor behave this way, and he's presented more as a raging animal than as anyone to empathize with, or at least understand. No characters are likable on either side of the fence, and the script is less a morality play than a resigned look at England's deteriorated society. Meanwhile, the dialogue may include more usages of "wanker" and "bollocks" than any other film in history. About a third through the story, there's an absolutely brilliant scene in which a police case worker gives Trevor an incisive, flowcharted lecture on a blackboard about the poor choices he has made. It is spectacularly written and delivered, and the actor practically steals the movie away from Roth. [Note: The Flixster entry says Robbie Coltrane appears in "Made in Britain," but if so, he must be some easily overlooked extra. And this is not listed among his IMDB credits.]
Eric Broome
Super Reviewer
½
Made in Britain, Brilliant it captivates some londoners true love for britain there own country and how people feel about foreigners and Tim Roth played the part fantasticulary he was excellent this movie is funy with tim roths witty back chat and just an enjoyable film to watch, although the ending just seems to abrupt and for a very short movie of just 1hr 11mins i think the ending should have been better! but this movie is really worth a watch especially if your a tim roth fan!
Film Crazy
Super Reviewer
Made in Britain Quotes
There are no approved quotes yet for this movie.