Madea's Witness Protection
(2012)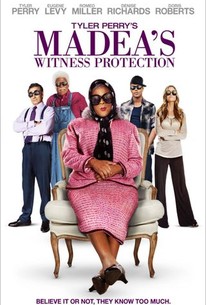 Madea's Witness Protection Photos
Movie Info
For years, George Needleman (Levy), the gentle CFO of a Wall Street investment bank, has been living with his head in the clouds. But George is finally forced to wake up when he learns that his firm, Lockwise Industries, has been operating a mob-backed Ponzi scheme - and that he's been set up as the fall guy. Facing criminal charges and death threats from the mob, George and his entire family are put under witness protection in the safest place that Brian (Perry), a federal prosecutor from Atlanta, can think of... His Aunt Madea's house down South. -- (C) Lionsgate
Critic Reviews for Madea's Witness Protection
Audience Reviews for Madea's Witness Protection
I like pretty much all of Tyler Perry's movies. Even when they get too melodramatic, they are still pretty entertaining. "Madea's Witness Protection" is his latest in a long line of movies about Madea(Perry in drag). This time Madea takes in a family from New York who are under an FBI investigation while they and receive death threats from the mob. This is a straight up over the top comedy, with zero drama like all of his other movies. While that's kind of a breathe of fresh air, the comedy falls flat a lot. The cast is pretty weak. Eugene Levy is ok, but he is just playing himself, and he's married to Denise Richards. Yeh, it don't make sense to me either. There's a lot of plot holes, and the movie only really works when Madea is on screen. Even though too much of her(or him), gets to be annoying after a while. This is probably my least favorite of the Madea movies, and hopefully if they make more they get better. Watch if your a fan, but skip otherwise.
Everett Johnson
Super Reviewer
Not as enjoyable as some of his other films. 2 stars
Bruce Bruce
Super Reviewer
½
Funny premise. I think Tyler Perry is quite subversive and for that I love him--sending up ponzi scheme guys, sending up hypocrisy in all shades of black and white. I don't think he's what my friends would call politically correct, so he may have to remain my guilty little pleasure.
Bathsheba Monk
Super Reviewer
Madea's Witness Protection Quotes
| | |
| --- | --- |
| Brian: | Hey Madea! |
| Madea: | Hey Brian, Hey Brian |
| Uncle Joe: | I don't know why you leave the toilet seat up Mabel! |
| Brian: | Hey Daddy! |
| Uncle Joe: | Don't I know you? |