Mademoiselle Fifi
(1944)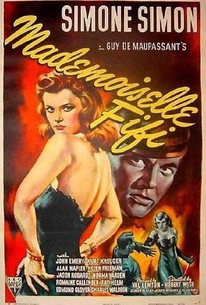 Movie Info
One of the few failures for RKO Radio's resident "prestige programmer" producer Val Lewton, Mademoiselle Fifi is based on two Guy De Maupassant tales, with emphasis on Boule de Suif. The story takes place during the Franco-Prussian war of 1870, though it is clearly an allegorical representation of the German mindset of WW2. "Mademoiselle Fifi" is the derisive nickname of a brutal Prussian officer (Kurt Krueger) who rules the roost in a tiny French village. When a stagecoach rides into the village, the passengers are detained by the Prussian tyrant, who threatens to kill them all at any given moment. Desperately, the passengers demand that one of their own, a laundress of dubious morals named Elizabeth (Simone Simon), surrender herself sexually to the Prussian to secure their freedom. Previously the object of scorn and ridicule from her fellow passengers, Elizabeth is bitterly amused by their change of heart, but she's too loyal to France to refuse their request. How she completes her "mission" and eliminates "Mademoiselle Fifi" in the process is the film's dramatic core. Though superbly directed by Robert Wise, Mademoiselle Fifi is laid low by its pretentiousness-not to mention the uneveness of the performances, none more uneven than Jason Robards Sr., who at one point declaims in his flat midwestern tones "We must not forget that we're all Frenchmen!"
Critic Reviews for Mademoiselle Fifi
Audience Reviews
There are no featured reviews for Mademoiselle Fifi at this time.
Mademoiselle Fifi Quotes
There are no approved quotes yet for this movie.