Mother (Madeo)
(2010)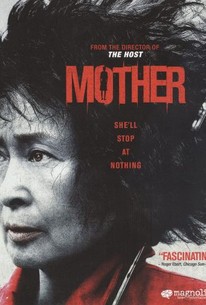 TOMATOMETER
AUDIENCE SCORE
Critic Consensus: As fleshy as it is funny, Bong Joon-Ho's Mother straddles family drama, horror and comedy with a deft grasp of tone and plenty of eerie visuals.
Movie Info
Hye-ja is a single mom to 27-year-old Do-joon. Her son is her raison d'être. Though an adult in years, Do-joon is naïve and dependent on his mother and a constant source of anxiety, often behaving in ways that are foolish or simply dangerous. Walking home alone one night down a nearly empty city street, he encounters a young girl who he follows for a while before she disappears into a dark alley. The next morning, she is found dead in an abandoned building and Do-joon is accused of her murder. Thanks to an inefficient lawyer and an apathetic police force, Do-joon's case is quickly closed, but his mother refuses to let this be the end of the story.
Critic Reviews for Mother (Madeo)
Audience Reviews for Mother (Madeo)
½
Bong combines intense tragedy and dry humor to create a witty, unexpected sense of bizarreness in this ironic narrative that surprises us with its clever plot twists, elegant cinematography and an absolutely magnificent performance by Kim Hye-ja.
Carlos Magalhães
Super Reviewer
Korean moms are hella paranoid and always filled with worry for their children... but this mom takes it to the SSJ-hardcore-to-the-max limit. I've been loving Korean movies recently... no, it's not cause I'm Korean. They're expertly structured, artistically vibrant, and extremely immersive. "Mother" continues to keep the Korean movie industry running smoothly. "Mother" staggers slightly due to the lack of a moral or thematic foundation and, contrary to more recent Korean films, slight pacing issues. Yet, these are just minor issues for an deftly crafted thriller with a multiple of riveting, suspenseful scenes. All the actors play their roles superbly, the cinematography is unique, the editing has an unbelievable amount of precision, and the dialogue is simple yet smart. I'm gonna tell ya though, this is a violent movie that exudes a very eerie and disturbing tone. Haven't seen a movie like it. For a movie with a very linear plotline, "Mother" dishes in variety through unpredictability, enthralling "indie-like" scenes that add artistic value, and incredibly tense scenes. Yeah... Hollywood's missing out... "Mother" exceeds on all levels and unlike many Korean movies, leaves viewers with something more then just a story -- it leaves an impression that won't be forgotten for a while.
Slow-burning dark drama that features a fantastic performance by Hye-ja Kim in the title role.
Randy Tippy
Super Reviewer
Mother (Madeo) Quotes
There are no approved quotes yet for this movie.