Madigan
(1968)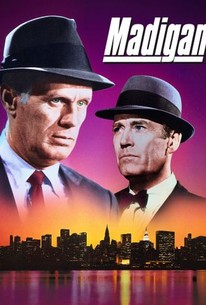 Movie Info
Two New York City detectives are send to capture a killer in Spanish Harlem. Detective Madigan (Richard Widmark) and his partner Bonaro (Harry Guardino) set out to pick up Barney Benesch (Steve Ihnat), who has run out on a murder indictment from Brooklyn. The duo traces Barney to a seedy hotel where the wanted man is in bed with a nude female. Distracted by the female, Barney gets the drop on the two cops, steals Madigan's service revolver and escapes. Police Commissioner Russell (Henry Fonda) is livid, and gives the cops three days to apprehend the criminal, threatening to bust them down to pounding a beat in the Bowery. Madigan has trouble at home with his wife Julia (Ingar Stevens), who despises police work and implore her husband to spend more time with her at home. The Commissioner has trouble of his own by carrying on an adulterous affair. He also discovers his best friend, Chief Inspector Kane (James Whitmore) has been taking bribes to keep mum about a house of prostitution. The hard boiled, overworked Madigan and his faithful partner follow the killer all over town and back to Spanish Harlem. By now Barney has killed two cops with Madigan's revolver, and holes up in another seedy dive for a dangerous standoff with police. Sheree North also stars as Madigan's former flame and croons the tune "You Don't Know What Love Is".
Critic Reviews for Madigan
Audience Reviews for Madigan
Great cast, middling script. Widmark is tough but hints at a vunerablity under that facade. Henry Fonda sort of walks through his role but it doesn't really ask much of him. Good period feeling which at the time may have been incidental but now gives you a sense of it's time. Inger looks amazing with some gravity defying hair but she's unfortuantely wasted in the wife role.
Madigan Quotes
There are no approved quotes yet for this movie.