Madonna: Truth or Dare
(1991)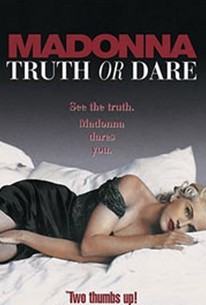 Madonna: Truth or Dare Photos
Movie Info
"Truth or Dare" is follows Madonna on her 'Blond Ambition' tour, also utilizing interviews with the performer.
Critic Reviews for Madonna: Truth or Dare
Audience Reviews for Madonna: Truth or Dare
It's really strange to watch this film and come out with a decided opinion on who Madonna is as a person, what she stands for, and what she cares about. Throughout the film there is this strange, pretentious narration that flits between scenes that are completely oppositional to what happens onscreen. Read more at http://www.bluefairyblog.com/reviews/2015/8/18/double-feature-truth-or-dare-and-part-of-me
Spencer S.
Super Reviewer
½
As many others have said, Warren Beatty steals the show with his comments about Madonna "not wanting to live off camera". Love her or hate her, this is still an interesting look inside Madonna's life.
½
This film was the big thing in 1991. Fascinating and Fun tour with Madonna and her concert series. I learned to love her and hate her from this very same movie. She's a phenomenal and complex character. We saw some humanity presented too! I was awed by the stage performances and costumes which accompanied the music. I chuckled at the likes of the horse-man, the bed-pounding and the cone-bras. The Toronto authorities should be ashamed of themselves for trying to stop such an influential artist from letting her work be witnessed.
Lafe Fredbjornson
Super Reviewer
Madonna: Truth or Dare Quotes
| | |
| --- | --- |
| Himself: | Warren Beatty: [after Madonna declines to talk to her doctor off-camera] She doesn't want to live off-camera, much less talk. There's nothing to say off-camera. Why would you say something if it's off-camera? What point is there existing? |
| Warren Beatty: | [after Madonna declines to talk to her doctor off-camera] She doesn't want to live off-camera, much less talk. There's nothing to say off-camera. Why would you say something if it's off-camera? What point is there existing? |
| | |
| --- | --- |
| Herself: | Madonna: [voiceover, as Madonna visits her mother's grave] What I remember most about her was that she was - she was very kind and very gentle and very feminine. I don't know, I guess she seemed like an angel to me, but I suppose everybody thinks their mother's an angel when they're five. I also know she was really religious, so I never really understood why she was taken away from us. It seemed so unfair. I never thought that she had done something wrong, so oftentimes I wondered what I had done wrong. |
| Madonna: | [voiceover, as Madonna visits her mother's grave] What I remember most about her was that she was - she was very kind and very gentle and very feminine. I don't know, I guess she seemed like an angel to me, but I suppose everybody thinks their mother's an angel when they're five. I also know she was really religious, so I never really understood why she was taken away from us. It seemed so unfair. I never thought that she had done something wrong, so oftentimes I wondered what I had done wrong. |
| | |
| --- | --- |
| Herself: | Madonna: [makes gagging noises] "Neat"? Anybody who says my show is "neat" has to go. |
| Madonna: | [makes gagging noises] 'Neat'? Anybody who says my show is 'neat' has to go. |
| | |
| --- | --- |
| Himself: | Kevin Costner: Thanks for having us. It was really generous. |
| Kevin Costner: | Thanks for having us. It was really generous. |
| Herself: | Madonna: Thanks for coming. |
| Madonna: | Thanks for coming. |