The Magdalene Sisters
(2003)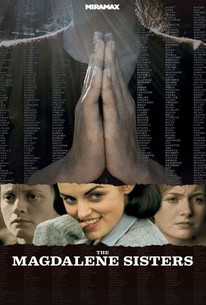 The Magdalene Sisters Photos
Movie Info
A drama which charts several years in the young lives of four "fallen women" who were rejected by their families and abandoned to the mercy of the Catholic Church in 1960's Ireland. While women's liberation is sweeping the globe, these women are stripped of their liberty and dignity, and they're condemned to indefinite sentences of servitude in The Magdalene Laundries in order to atone for their "sins." The last Magdalene Asylum in Ireland closed in 1996, and only since has the true horror of conditions in these institutions begun to emerge.
News & Interviews for The Magdalene Sisters
Critic Reviews for The Magdalene Sisters
Audience Reviews for The Magdalene Sisters
Writer/Director Peter Mullan follows up his surreal and blackly humourous Scottish family drama "Orphans" with this hard-hitting account of the agonising and torturous true-story of the abuse of young women from Ireland in the name of religion. In 1960's, young women where incarcerated in a Irish convent, run by the Catholic church, for committing such 'misdeeds' as flirting with boys, becoming pregnant out of wedlock, and being raped. They are physically and psychologically abused by the head nun and her sadistic staff, who are convinced they are doing the Lord's work. Having based his screenplay on actual Magdalene inmates' experiences, Mullan achieves an authenticity of what life was like for the young women that had to endure the injustices, humiliation and brutality of these asylums. At times it's very difficult to stomach, such is the sheer power and uncompromising telling of this harrowing story and it's full of overwhelmingly excellent performances. Geraldine McEwan as Sister Bridget, the head nun, gives one of the most absolute personifications of evil ever commited to the screen and Eileen Walsh is heart-breakingly compelling as the naive, downtrodden and religiously devoted Crispina. Her performance was worthy of so much more recognition than she recieved. Speaking of which, the entire cast and crew deserved more awards attention on it's release. Had this been directed by someone with a higher profile than Mullan and his crew, this film would have been hailed as a masterpiece. As it is, it's had to rely on word-of-mouth to find an audience but this doesn't lessen the effect or superb work by everyone involved here. Mullan's direction is flawless, the cinematography by Nigel Willoughby is stark, and almost de-saturated, adding to the overall feeling of desperation and loneliness of the women and as mentioned, the performances are perfectly pitched from a largely unknown cast. It may be hard for some to accept this behaviour went on but it's even harder to accept that these asylums lasted until 1996, when the last one was finally shut down. A harrowing and emotionally charged drama that while based on fact, is highly subversive. If the Vatican condemns a film on it's release (which it did with this) then there's no doubt that you're in for a hard-hitting film. Painful, provocative and important!
Mark Walker
Super Reviewer
A powerful and unflinching drama from Peter Mullan that will inevitably fascinate yet distress viewers. The film covers an interesting yet terrible period in history, its well directed, engrosses the viewers from start to finish, contains top performances from all the young cast and a fierce portrayal from Geraldine McEwan. Essential viewing!
Shauna Robinson
Super Reviewer
A brilliantly acted, very down to Earth story depicting realistic activities within the many of the asylums in Ireland during this era. Horrific circumstances that allows women to be treated as prisoners for shaming their families, whilst repenting their sins. The individual stories of each are tales within a tale and are a harsh reality reflected of the time, where pride is thicker than water! Hard hitting British Drama at it?s best.
Lady D'arbanville
Super Reviewer
The Magdalene Sisters Quotes
There are no approved quotes yet for this movie.