Magic
(1978)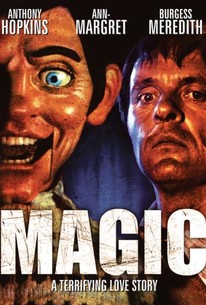 Movie Info
In this film, Anthony Hopkins plays Corky, a schizophrenic ventriloquist who believes his dummy Fats is about to come alive and take over the act. After Corky kills his manager, believing that the dummy has committed the crime, he travels to upstate New York to visit his high-school flame.
Audience Reviews for Magic
Though Magic scores no points for originality - old hat even then, the theme of a ventriloquist's personality being taken over by that of his dummy had been perfected over 30 years earlier in a segment of the Ealing portmanteau Dead of Night, starring Michael Redgrave, and had been recycled not once but twice since in different episodes of The Twilight Zone - it's still a well-crafted and solidly entertaining minor horror movie. If I'm honest, Anthony Hopkins has a tendency to overplay at times but Ann-Margret and Burgess Meredith offer excellent support.
Richard Attenborough crafts a disturbing psychological horror yarn with a good cast. The film stars Anthony Hopkins as a ventriloquist who can't separate himself from his dummy, and slowly loses his mind. At times there film could have been improved upon, and considering it's idea, should have been a far better film, but as it is it's a tense, atmospheric picture that manages to be entertaining due to the casts performances. Where the film lacks however is that it feels like it tries too hard with its interesting idea, therefore it loses sight of what's really going on. Luckily Hopkins is chilling in his performance and he makes the film watchable and good. However, at times the film does leave a lot to be desired in terms of sheer terror and memorable chills. The idea is disturbing, but the terror is never quite there. At least the film has some tense atmosphere to make up for the lack effective scares. Anthony Hopkins is very good here, but he would later deliver afar superior performance in his legendary role of Hannibal Lecter in the horror masterpiece Silence of the Lambs. Magic is a good film, but it does fall short of its potential. Worth seeing if you enjoy Hopkins' work, and Dummy/doll movies. However there are far better films in the genre to be watching than this one. Don't go into this one expecting a memorable horror film, because you won't find it. Like I said, the film is good, but doesn't hold up in the long run in terms of terror. It's atmospheric yes, and disturbing, but it never goes deeper in terms of trying to find what's really terrifying. Magic is a good little film, but don't expect to be terrified when you watch this.
½
Not too bad actually. Anthony Hopkins was good at being creepy before Silence of the Lambs. Not really a "horror" film more just creepy.
Magic Quotes
There are no approved quotes yet for this movie.