Magic in the Moonlight
(2014)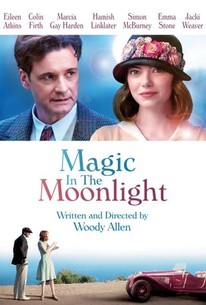 Magic in the Moonlight Photos
Movie Info
Chinese conjuror Wei Ling Soo is the most celebrated magician of his age, but few know that he is the stage persona of Stanley Crawford (Colin Firth), a grouchy and arrogant Englishman with a sky-high opinion of himself and an aversion to phony spiritualists' claims. Persuaded by his friend, Howard Burkan (Simon McBurney), Stanley goes on a mission to the Côte d'Azur mansion of the Catledge family: mother Grace (Jacki Weaver), son Brice (Hamish Linklater), and daughter Caroline (Erica Leerhsen). He presents himself as a businessman named Stanley Taplinger in order to debunk the alluring young clairvoyant Sophie Baker (Emma Stone) who is staying there with her mother (Marcia Gay Harden). Sophie arrived at the Catledge villa at the invitation of Grace, who is convinced that Sophie can help her contact her late husband, and once there, attracted the attention of Brice, who has fallen for her head over heels. What follows is a series of events that are magical in every sense of the word and send the characters reeling. In the end, the biggest trick MAGIC IN THE MOONLIGHT plays is the one that fools us all. (C) Sony Pictures Classics
News & Interviews for Magic in the Moonlight
Critic Reviews for Magic in the Moonlight
Audience Reviews for Magic in the Moonlight
½
The dialogue is painfully expository and it is hard to accept that such a self-centered rationalist would be this easily convinced without asking the most fundamental questions about what he is witnessing. Besides, the plot is too predictable for anyone acquainted with Allen's works.
Carlos Magalhães
Super Reviewer
A miss for Woody. Beautiful looking film with Colin Firth fine in the lead but the usually charming Emma Stone is completely wrong as the supposedly mystical woman in question. Suggesting not an ounce of gossamer glow nor in any way a woman of the 1920's when the film is set she seems nothing but a miscast actress at sea. It doesn't help that she and Firth share zero chemistry on screen.
½
While most of this film will just go over your head as far as caring about the deep voabulary used to explain characters, "Magic in the Moonlight" is also an endearing film (albeit slow) about how love can change ones perspective on everything. Sure, there is much more under the surface of that notion, but we are talking about a Woody Allen picture here after all. Surprisingly, I bought the chemistry between Emma Stone and Colin Firth, because just after the first act I really felt as though it would have been forced. Is this one of Woddy Allen's most profound works of art? No, but for someone who has had a long string of average movies lately, this one stood out to me. The natural conversations about the world and what it truly is, really got to me. Not everything is all sunshine and rainbows, but the film chooses to stay mostly in the sunshine (figuratively), which I thought was very intriguing. "Magic in the Moonlight" is a very well-made picture with witty performances and a good enough story to warrant the dialogue that I enjoyed. Is this a film I will be remembering for a long time? No, but for the meantime, it was a very pleasant watch.
Magic in the Moonlight Quotes
There are no approved quotes yet for this movie.