Magic Town
(1947)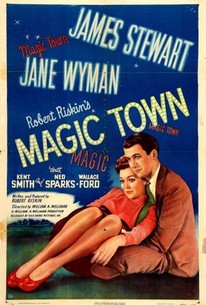 Movie Info
With Robert Riskin as screenwriter, director William Wellman proved in Magic Town that it was possible to make a Frank Capra-esque picture without Capra himself at the helm. James Stewart plays Rip Smith, a cynical pollster who comes across a small American town named Grandview, which represents a "perfect" balance of ethnic types, professions, political beliefs, and personal opinions (a parody of the then-current "Middletown" study). Smith publicizes this discovery, leading to a barrage of media attention and an onslaught of get-rich-quick entrepreneurs. Not surprisingly, all of this has an adverse effect on the heretofore "average" citizens of Grandview; it also seriously threatens Smith's blossoming romance with local girl Mary Peterman (Jane Wyman), who feels that her friends and neighbors are being used, exploited, and in some cases, corrupted. The satirical thrust of the film bogs down into sentimentality toward the end, but it's fun while it lasts. One of the colorful supporting characters is played by screwball-comedy favorite Donald Meek, who died during production, necessitating a number of hasty and not altogether successful rewrites. Though it pleases audiences today, Magic Town was a financial disappointment in 1947, prompting James Stewart to seek out "tougher" and more challenging roles to restore his box-office appeal.
Critic Reviews for Magic Town
All Critics (6) | Fresh (3) | Rotten (3)
Interesting comedy take on radio giveaway shows.
October 16, 2004 | Rating: 3/5
Miscast director bogged in a sappy movie.
August 2, 2004 | Rating: 2/5
Audience Reviews for Magic Town
½
Great cast giving excellent performances, fine director. script written by a top flight screenwriter but something is missing and this falls rather flat. Jane Wyman is very good indeed.
Magic Town Quotes
There are no approved quotes yet for this movie.