The Majestic
(2001)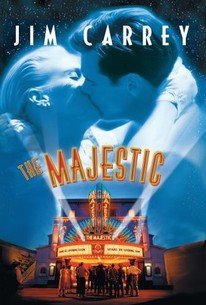 TOMATOMETER
AUDIENCE SCORE
Critic Consensus: Ponderous and overlong, The Majestic drowns in forced sentimentality and resembles a mish-mash of other, better films.
Movie Info
Hollywood screenwriter Peter Appleton, a staff writer at HHS Studios in 1951, is an ambitious up-and-comer. His first produced screenplay, a B movie swashbuckler entitled "Sand Pirates of the Sahara," has just opened on a double bill with John Huston's adventure, "The African Queen," at Grauman's Chinese Theater on Hollywood Boulevard. Not only is Appleton enjoying professional success, he has a hot starlet girlfriend, Sandra Sinclair, the female lead in his big screen debut. However, life is full of 'what if's...' What if Appleton were suddenly targeted by the House Un-American Activities Committee for suspected Communist leanings uncovered during his college years? What if Appleton lost not only his job and his girl, but his identity as well in a serious car crash in which the young writer developed amnesia? What if Appleton, unsure as to who he really is, stumbles into a charming little town on Northern California's coast and is mistaken for one of the town's long lost World War II heroes?
Critic Reviews for The Majestic
Audience Reviews for The Majestic
½
Although it has flaws, I enjoyed The Majestic, an atypical Jim Carrey film which functions as sentimentality and symbolism. This is kind of The Andy Griffith Show meets Its A Wonderful Life with Goog Night,Good Luck thrown in to teach a lesson. Set in post-WW II redscare paranoia, the villains are the paranoid beaurocrats, not the Communists themselves. The Majestic is a study in contrast of small town values vs. sell-out political expediency. Also, the town of Lawson, CA becomes reborn much as the theater called the Majestic is reborn. Jim Carrey eshews his trademark goofiness for a sensitive portrayal, kind of a follow-up to 1998's Truman Show. Martin Landau, likewise truly shines as Harry Trimble, Carrey's character's surrogate father. This may be my favorite of his films, although he stole the show in Ed Wood. In conclusion, this film is overly deliberate and didactic, but I appreciate it as a slice of Americana and sentimentality. The amnesia angle has been done to death, and better also. The movie with a movie, The Sand Pirates is pretty awesome too!
Clintus Maximus
Super Reviewer
½
OK this isn't exactly the most original idea ever and the whole thing feels a bit like an extended 'Twilight Zone' episode (one of the more sensible ones), but this truly is a beautiful film with the kind of performances that are guaranteed to make you smile. A simple tale set in the 50's, a young man is accused of being a Communist and his life is turned upside down. One night he gets slightly drunk and drives his car off a bridge accidentally and ends up almost drowning. He gets washed up on the shores of a small town where he is believed to be a WWII soldier killed years before. This is complete and utter American pie through n through and I mean that in the best way possible. Generally things like this can be quite sickening with all the Stars n Stripes patriotism and this does have that, truth be told this actually has more treacly gooey hanky moments than you can shake a stick at. There is also the element of the all American Communist 'witch hunts' which is the whole plot beneath the surface. Its only kinda touched on really but its played out in a typically heroic way for the main character in the end. You think he will submit to the government, a government of so called democracy, but he fights for truth and justice and the American way. Yes the finale is a bit too vomit inducing for us non Americans. What works for me is the pure visual spectale of the film with the typically quaint white building built US town set amongst the glorious Californian woodlands on the pacific coast. In short this film looks stunning, its made to look extremely whimsical of course but it works. The era makes this work even better as the sight of old classic US cars cruising around, small diners, the smart fashions, jazz/big band music etc...give the film a very homely taste that I think anyone (more so adults probably) can enjoy. The cast is another reason to like this film, how can you not enjoy seeing Martin Landau in a brilliantly moving role. I loved 'Ed Wood' and this yet another portrayal of angst and heartbreak but even stronger than before. Gerry Black also gives us a lovely performance for the old caretaker of the Majestic, his gravelly raspy voice draws you in whilst his cheeky grin is heartwarming. James Whitmore has a small role but he sure fits in well, performance is perfect as is his costume and character design, looks good with the pipe. To be honest all the main roles are played well by a host of solid actors, many I have seen before and merely know by face, reliable character actors. Then we have Mr Carrey, to be honest a brave move as before this he was known only for his comedies. This doesn't mean he was the right choice of course hehe, in my opinion he can't quite handle the kind of serious emotion involved here (at least at this period in his career) and you can see it. A case of being type cast for over the top crazy ass characters or idiots, due to this you keep half expecting him to do something or say something daft. Carrey never really looks too comfortable in this film surrounded by proper quality character actors, he was yet to break away from his over acting lunacy. A charming nostalgic film that manages to homage the golden age of small town 50's America and the classic (and much missed) age of big regal looking cinemas, but is also a stirring tribute to the fallen of WWII. It is extremely cliched and cheesy, love it or hate it I doubt there will be any middle ground here. It really does pull all the obligatory heart strings to get you choked up, every old trick in the mushy book, but damn it...it works!.
Phil Hubbs
Super Reviewer
½
Still not sure if this was Carrey's best or worst role.
The Majestic Quotes
| | |
| --- | --- |
| Harry Trimble: | I mean, this television thing. Why would you want to stay at home and watch a little box? Because it's convenient? Because you don't have to get dressed up, because you could just sit there? I mean, how can you call that entertainment, alone in your living room? Where's the other people? Where's the audience? Where's the magic? I'll tell you, in a place like this, the magic is all around you.The trick is to see it. |