Major League: Back to the Minors
(1998)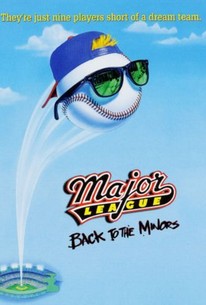 Major League: Back to the Minors Photos
Movie Info
This third installment of the "Major League" series follows retiring minor league South Carolina Buzz player Gus into managing the underdog team. With effort the team will play the powerful champs, the Twins.
Critic Reviews for Major League: Back to the Minors
Audience Reviews for Major League: Back to the Minors
Major League 3: Back to the Minors is an awful, lacking film that just doesn't deliver a good entertaining hour and a half. For fans of the original film, and the second one, this thirds and final entry in the Major League trilogy is an uninspired film that has nothing going for it. The cast here just don't have any screen presence, and their performances feel forced, wooden and lazy. In terms of comedic material, this one just doesn't deliver anything funny. This film scraps the bottom of the barrel, and Major League only needed one sequel. This third film just shows that it's not necessarily a good idea to keep making sequels to great films. The second film was good, but this one just has nothing to grab your attention, and it fails to really make you with a cast that are dull. The script is poorly thought out, and it's a film that isn't funny whatsoever. The attempts at comedy are awful, and it just makes this film not worth your time. This is a bad film, one that you'll surely be disappointed with. Stick with the first two films, and don't even bother with this third film because the filmmakers clearly didn't care about the finished film, and the result is a pointless, lacking third film and it's a poor attempt at a fun comedy. This one just fails to entertain, and it's a shame because, it might have worked if the script would have been reworked many times before this film had gotten the green light. Don't go into this one expecting much, this is a poor comedy, and it is a waste of time.
Scott Bakula, and Corbin Bernsen are truly great actors, and compliment each other well in this movie. Not as good as the first but, I love baseball comedies ecspecailly the Major League films, good stuff.
Jason Reneau
Super Reviewer
Major League: Back to the Minors Quotes
There are no approved quotes yet for this movie.