A Majority of One
(1961)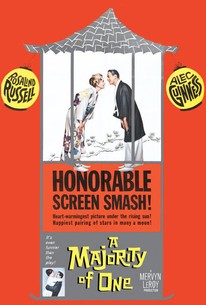 Movie Info
This standard love story adapted by Leonard Spigelgass from his stage play was acclaimed when it was released for probing into the nature of prejudice. Rosalind Russell plays Mrs. Jacoby, a Jewish widow living in Brooklyn whose daughter Alice (Madlyn Rhue) is married to Jerome (Ray Danton), a U.S. diplomat newly assigned to Japan. Because of Jerome's new post, Mrs. Jacoby decides to visit the land of the rising sun, and once there, she meets Koichi Asano (Alec Guinness). Asano is a suave, sophisticated, and wealthy man with an aesthetically impressive Tokyo home. After the two meet, love starts to blossom. This was one of the rare '60s films geared to the older set but it is significant that even during this period Hollywood still chose to cast a white actor (albeit Alec Guinness!) in the role of Asano.
Critic Reviews for A Majority of One
Audience Reviews for A Majority of One
½
Both Roz and Alec Guinness are miscast, it should have been Sessue Hayakawa and Thelma Ritter in their roles to remain true to the spirit of the piece, but they make something lovely and charming out of this film through their graceful ways, charisma and talent. It's very much of it's time and place, but most films are, and a trifle long still a gentle picture of guarded people finding a commonality of interest and finally love where none was expected. A sweet film.
A Majority of One Quotes
There are no approved quotes yet for this movie.