Make Me a Star
(1932)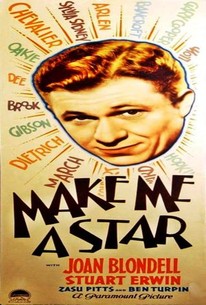 AUDIENCE SCORE
Critic Consensus: No consensus yet.
Movie Info
Joan Blondell, borrowed for the occasion from Warner Bros., earned top-billing in this delightful Hollywood parable, but the real star is of course Stuart Erwin as the irrepressible grocery clerk Merton Gill. Paramount screenwriters Saul Mintz, Walter De Leon and Arthur Kober based their witty scenario on Henry Leon Wilson's 1922 novel Merton of the Movies, the 1923 Broadway play by George S. Kaufman and Marc Connelly, and the 1924 Famous Players silent version starring Glenn Hunter. By 1932, the story was indeed well-known: Aspiring to become a famous screen cowboy, small-town delivery boy Merton Gill arrives in Hollywood, bright-eyed and bushy-tailed and complete with a diploma from the National Correspondence Academy of Acting. Crashing the gates of Majestic Pictures (read: Paramount), Merton manages to fumble his one line bit in the latest Buck Benson (Dink Templeton) western and is fired on the spot. Unwilling to leave the studio, the hapless thespian survives on leftover scraps from the extra's lunch boxes until discovered by comedy starlet "Flip" Montague (Blondell), who takes pity on him and arranges a meeting with Jeff Baird (Sam Hardy), head of the slapstick comedy unit. Bestowed a new name, Whoop Ryder, Merton is starred in what he assumes to be a serious western melodrama but what in reality is yet another burlesque featuring cross-eyed low comic Ben Turpin. Although a big hit with preview audiences, a humiliated Merton is ready to return to the grocery business when "Flip" persuades him to stay by telling him that he is "darn near perfect."
Critic Reviews for Make Me a Star
All Critics (2) | Fresh (1) | Rotten (1)
A fluff comedy that remains witless, overlong and overbearing.
Whimsical and occasionally witty, this inside-Hollywood comedy benefits from its all star Paramount cast.
Audience Reviews
There are no featured reviews for Make Me a Star at this time.
Make Me a Star Quotes
There are no approved quotes yet for this movie.