Make Way for Tomorrow
(1937)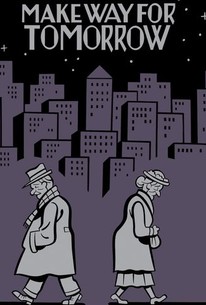 Make Way for Tomorrow Photos
Movie Info
Totally alone but for each other, an elderly couple struggles to keep the bank from taking their home. When that fails, they must find some place to stay. Unfortunately, neither of their grown children are able to take them both, so the couple is forced to part.
Critic Reviews for Make Way for Tomorrow
Audience Reviews for Make Way for Tomorrow
The love story. The "chick flick". The romance. Hollywood's been churning them out for as long as there have been movies. Watching young love blossom from gentle flirting to steamy passion is almost prerequisite for all but the most jaded heart. "Make Way for Tomorrow" looks at the love story through a unique perspective. Everyone's familiar with the well worn adage of young love, but how many of us think about the love a couple still feels for one another fifty years down the road? The Cooper family seems close-knit and doting on their elderly parents, at least until ma and pa announce the bank is foreclosing on their home and they're about to be thrown out. The kids have many excuses why the parents can't come live with them, but after much hemming and hawing they finallly arrive at an amicable solution (for the kids, that is): mother will stay with brother George and father will stay with sister Cora (that is, until further arrangements can be made). Of course, an already stressful situation only gets more strained as time passes, with the childrens' respective spouses feeling put upon to care for these elderly in-laws who are nothing but in the way all the time. It's the mother who seems to cause the most grief to her daughter-in-law and granddaughter, no matter how she bends to accommodate them, there just isn't enough room in the house for someone who isn't really wanted. We see the kids' perspective, it can't be easy having someone feeble who's always 'there', cramping your style and embarrassing you in front of your bridge meeting. They know they should be more considerate of their parents, and they try, but they also have their own lives to lead and the situation they've been put into just isn't fair, darn it. But we also see things from the parents point of view, as their whole world becomes lost to them. Being pulled apart after fifty years of marriage... The last act of the film, when the old couple is reunited, gives a glimpse of just how much they really love and care for one another, and even in spite of circumstances, can enjoy one another's company for perhaps the last time. Even having said all this, this movie isn't some great melodrama of heartbreak. It's a story being told honestly. It's director, Leo McCarey, often considered "Make Way for Tomorrow" to be his best film. It is, at the very least, an arguable opinion.
Devon Bott
Super Reviewer
"That's the saddest picture ever made. It would make a stone cry!" -Orson Wells speaking about Leo McCarey's Make Way for Tomorrow. He wasn't far wrong.
Randy Tippy
Super Reviewer
Beautifully acted, heartbreaking in it's honesty,
Make Way for Tomorrow Quotes
There are no approved quotes yet for this movie.