Making the Boys
(2010)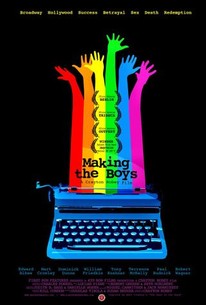 Movie Info
MAKING THE BOYS tells the story of Mart Crowley's groundbreaking play "The Boys in the Band" - from overnight sensation on Broadway, to Hollywood's first gay movie, to cultural landmark and worldwide phenomenon - all the while having a complicated and sometimes controversial relationship with the gay community. No one could have guessed the impact that a small Off-Broadway production would have on the social climate of the 1960s...not to mention how important and monumental it was to gay people at the time, many of whom were still in the closet. MAKING THE BOYS features illuminating and entertaining footage from the period, interwoven with extensive interviews with Crowley; William Friedkin, the Oscar-winning director of the BOYS movie; and a host of luminaries inluding Dominick Dunne, Tony Kushner, Terrence McNally, Edward Albee, Dan Savage, Robert Wagner and many others. It also tracks the trajectories of the original cast members of the play and the movie. -- (C) First Run Features
Critic Reviews for Making the Boys
Audience Reviews for Making the Boys
As far as any impact that the play "The Boys in the Band" had, it was in showing gay men not as sidekicks but as taking leads in their own lives which was revolutionary in 1968. Where the occasionally insightful documentary "Making the Boys" goes too far is presuming that "The Boys in the Band" had anything to do with influencing the Stonewall Riots(the theory concerning any connection with Judy Garland's funeral has already been disproven), as its now dated attitudes push it towards the "Will and Grace" end of the cultural impact spectrum. "Making the Boys" also errs by going off topic at times while exchanging its background with the foreground. I mean, if you're interested in seeing this, you probably already have a pretty good idea about the history of the gay rights movement that ironically includes testimony from Ed Koch. But it should also be noted that most of the original cast members died of AIDS, another of leukemia, leaving three alive, two who agree to talk on film. Of playwright Mart Crowley, he started out as assistant to Natalie Wood and would go on to be a writer/producer on 'Hart to Hart.'
½
Interesting film about the creation of the play THE BOYS IN THE BAND and its writer Mart Crowley. Though in the end the documentary casts its net more than a little too wide, encompassing the birth of the gay rights movement and the AIDS epidemic within the story of one play (and ignoring some key details about the life/career of the playwright in the years following the play's success), it's still a largely fascinating snapshot of a moment in theatre (and maybe even cultural) history. As somebody who has decidedly mixed feelings about the play itself, I was surprised how engaging the film is. Alternating between interviews with other industry professionals and people involved in the original production, the flick makes a strong and convincing argument for the importance of this piece of writing in not only a culture, but a cultural movement.
Jeff Talbott
Super Reviewer
Making the Boys Quotes
There are no approved quotes yet for this movie.