Making the Grade
(1984)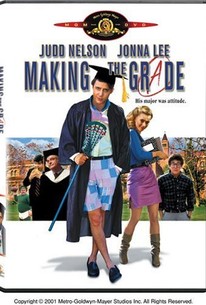 AUDIENCE SCORE
Critic Consensus: No consensus yet.
Movie Info
The time-worn clash between the rich and poor, brought out by switched identities, is the ploy used here to put a streetwise kid into an upper-crust prep school. Palmer (Dana Olsen) does not want to stay at school for his final year, but he needs to graduate in order to receive his mega-buck trust fund. Eddie (Judd Nelson) is a New Jersey native, used to the streets and handling trouble when it comes -- except Eddie's bookie is after him for a bad debt, and when Eddie jumps the prep school's fence to escape his creditor, he almost knocks down Palmer. From that serendipitous meeting, the two decide to swap identities -- or partly so. Eddie will become Palmer and get good grades in the last year of school, for the sum of $10,000 at graduation. And Palmer will go off on his own planned vacation. Eddie soon learns the ways of the rich and famous, but he is quickly back to crap games and porno movies, this time initiating his new schoolmates into that lifestyle and gaining popularity along the way. What follows is a series of misadventures as the bookie shows up at the school to demand his due from Eddie, Eddie falls in love with the daughter of the school's patron, and Palmer comes back.
Critic Reviews for Making the Grade
Audience Reviews for Making the Grade
This movie uses the story of the Prince and the Pauper and applies it to a lazy rich college student and a street smart high school drop out. I think that was a cool idea, even though the end is predictable, and this movie has a lot of funny scenes, I really liked it.
I SERIOUSLY LOVE THIS MOVIE!!! JUDD NELSON IS A GREAT ACTOR,ANDTHIS MOVIE IS SO FUNNY. I LOVE AT THE END HOW EDDIE CONFESSES WHO HE REALLY IS AND TRACY TAKES HIM BACK. CLASSIC '80S MOVIE!!!!
Cassie Hill
Super Reviewer
Making the Grade Quotes
There are no approved quotes yet for this movie.