Male and Female
(1919)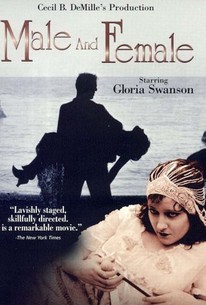 AUDIENCE SCORE
Critic Consensus: No consensus yet.
Movie Info
When a group of spoiled aristocrats are stranded on an island, only the butler has the necessary skills for survival. An adaptation of the James M. Barrie play The Admirable Crichton.
Critic Reviews for Male and Female
All Critics (3) | Top Critics (1) | Fresh (3) | Rotten (0)
The production places DeMille on a par with D.W. Griffith as a far as Babylonian stuff is concerned, and there are several scenes where DeMille steps a little beyond the great Grif.

Audience Reviews for Male and Female
½
"Male and Female" is one of the early feature-length films produced and directed by Cecil DeMille and one of the first films he made with Gloria Swanson as the lead actress. Unfortunately I cannot recommend it. The film gets better in the second half, but the first 70 minutes or so are interminable. With a running time of nearly two hours, it's a long haul. Even in 1919, great directors were revealing their chief weakness: the refusal to edit themselves. If 30 or 40% of the footage were cut away, "Male and Female" might be ideal. But excessive length and slack editing are not the only problems. There also is the thick, simplistic moralizing and the retrograde view of gender roles. Several members of a very rich English family are marooned on an island with some of their servants when their yacht capsizes. Swanson plays the eldest daughter in the clan. Thomas Meighan, who in his day was a major star, plays the family's head butler. The servants immediately take the lead on finding food and building shelter on the island, but the aristocrats quickly shed their sense of privilege and pitch in. With class differences disappearing, Swanson's character realizes she's in love with the butler, who emerges as the natural leader on the island. It was nice to see the aristocrats acknowledging that in some cases a lower-class person has more leadership ability than they. But once class privilege is demolished, it's replaced by male-supremacism! The butler starts to be worshipped by the women, who fight against each other for the right to serve him dinner! He sits in his king-like throne being waited on. And what's pathetic is that DeMille does not present this ironically. He seems to believe that female subordination is an important part of the natural order. I am surprised and disgusted that Swanson allowed herself to be used by DeMille in the construction of this gross endorsement of male supremacy, particularly at a time when the women's suffrage movement was reaching a crescendo in the United States. I'm glad Americans did not take their leadership from men like DeMille or women like Swanson. The story shifts back to class in the last segment. The family is rescued from the island, and immediately class stratification reasserts itself. Once back in London, the butler realizes that he would never be able to support Swanson's character and resists her initial suggestions that they have a go at marriage. The sense of fatalism that washes over both of them is complex. This is DeMille at his best. Too bad he's at his worst throughout most of the picture.
William Dunmyer
Super Reviewer
Male and Female Quotes
There are no approved quotes yet for this movie.