Mama Africa: Growing Up Urban
(2002)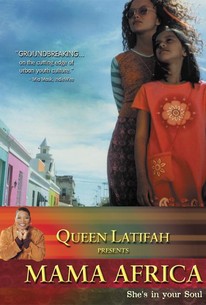 Movie Info
Mama Africa, hosted by rapper/actress Queen Latifah, combines three short films, directed by African women, telling tales of misguided youth in contemporary Africa. In Uno's World, from Namibia and directed by Bridget Pickering, Uno (Sophie David), a sexually inexperienced young woman, gets involved with a womanizer, Kaura (Muhindua Kaura), which leads to an unplanned pregnancy. When Kaura refuses to take responsibility for their child, and starts avoiding Uno, she leaves the baby in the care of her mother and goes to dangerous lengths to track Kaura down. In Hang Time, from Nigerian filmmaker Ngozi Onwurah (Welcome II the Terrordome), Kwame (Brian Biragi), a talented basketball player, in desperate need of a new pair of sneakers, and nervous about the imminent arrival of a basketball scout from America, decides to do a job for a slick-talking local gangster, Olu (Brian Bovell), to make some quick cash. The last film of the trilogy, Raya, comes from South Africa and was directed by Zulfah Otto-Sallies. The title character (Rehane Abrahams) is a smart but troubled young woman who has just been released from prison after several years. Raya goes to the home of her mother, Salaama (Denise Newman), a devout Muslim, who has been taking care of Raya's daughter, Madeegah (Ayesha Meer Krige). An independent modern woman unable to live by her mother's rules, Raya takes Madeegah away, telling Salaama, "You're not going to keep her under a veil all her life." But when Raya finds herself unable to get a job because of her criminal record, she's tempted to return to crime to provide for her daughter. These three 26-minute films were selected from a longer program of six such films produced by the African companies Zimmedia and M-Net. All three films are in English.
Critic Reviews for Mama Africa: Growing Up Urban
Audience Reviews
There are no featured reviews for Mama Africa: Growing Up Urban at this time.
Mama Africa: Growing Up Urban Quotes
There are no approved quotes yet for this movie.