The Mambo Kings
(1992)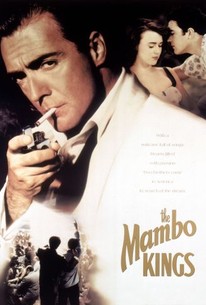 Movie Info
Based on a Pulitzer Prize-winning novel by Oscar Hijuelos, The Mambo Kings are brothers Cesar (Armand Assante) and Nestor Castillo (Antonio Banderas), Cuban musicians who immigrate to New York City to find fame and fortune in 1950s America. After hitting it big on the nightclub circuit, the duo scores a huge chart hit with "Beautiful Maria of My Soul," a song penned by the sensitive Nestor in an attempt to exorcise the spirit of the woman who broke his heart. The hit captures the attention of the patron saint of Cuban musicians, Desi Arnaz (played by his son Desi Jr.), who enlists the Castillos to appear on his I Love Lucy television program. As quickly as the Mambo Kings' star rose, however, it begins to fall; they never again achieve the kind of attention lavished on them following their TV appearance. The doomed Nestor marries a woman named Delores (Maruschka Detmers), but can never shake his love for Maria; compulsive womanizer Cesar loves Delores himself, while his arrogance continually alienates key figures in the star-making machinery.
Critic Reviews for The Mambo Kings
Audience Reviews for The Mambo Kings
The Mambo Kings Quotes
There are no approved quotes yet for this movie.