Mame
(1974)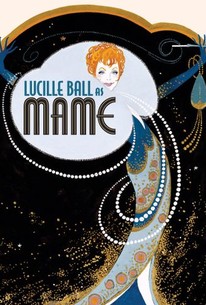 Movie Info
Cast as the title character in this second movie adaptation of a Patrick Dennis book and Jerry Herman musical (the first, Auntie Mame was in 1958), Lucille Ball plays an independently wealthy woman who marries a man (Robert Preston) and has to deal with his family. Bea Arthur, who won a Tony for her role in the stage version, reprises the part.
Audience Reviews for Mame
Utterly ghastly in every way.
½
The film has its problems: Lucy sings like she's smoking during the songs, and she's way too old to keep up with the spirit of her character. Bea Arthur looks like a man in drag -- but didn't she always anyhow? Despite its problems, it's one of my favorites. It's energetic -- and the costumes: "scrumptious"! (Watch the film to get that reference.) If you're looking for a feel-good time, I recommend Mame.
Christian C
Super Reviewer
Mame never achieves the heights it should, but it's not nearly as terrible as some other reviews would have you believe. It does stumble while telling its story primarily because of the time jumps the audience has to figure out through small (and not so small) visual queues. There's also the matter of key points of the story being left out, such as Patrick and Mame reconciling in the third act. Lucille Ball feels like she's channeling Gloria Swanson from Sunset Boulevard, she fails to make the character her own; instead, Mame is a pastiche of this and that with no true "self." I'm not as much a stickler for singing voices as some, though it is painfully obvious when certain actors are being dubbed. The production, for all its lavishness, falls flat without a lick of energy in it. Plots are introduced and casually dismissed. The Depression, for instance, which wipes out Mame's fortune, is mentioned almost in passing. Does she cry or despair over it? Nope. She keeps on singing. What makes this woman tick? Where does she get her limitless reservoir of energy and good nature from? What makes her tick? We don't know and I doubt anyone connected to the film knows, either, sadly.
Jason Vargo
Super Reviewer
Mame Quotes
There are no approved quotes yet for this movie.