The Man from Elysian Fields
(2001)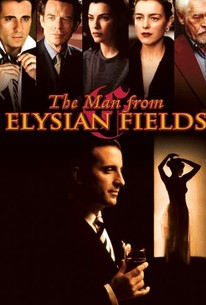 The Man from Elysian Fields Photos
Movie Info
George Hickenlooper directs this psychological drama about an impoverished writer lost in a world of money, power, and male escorts. Though happily married with a young child, Byron Tiller (Andy Garcia) is struggling to make ends meet as a novelist. His last work, called "Hitler's Child," had an ignoble run in the bookstore bargain bins and his editor is not interested in his latest work about migrant workers. One day, he is approached by a dapper Brit named Luther Fox (Mick Jagger) who actually read Tiller's last opus. Luther explains that he runs an escort agency named Elysian Fields, which caters to rich women looking for intelligent companionship. Desperate for any kind of income source, Tiller takes the job while keeping the whole thing a secret from his loving wife (Julianna Margulies). He soon is rubbing elbows with the beautiful wife (Olivia Williams) of an aging Pulitzer Prize-winning writer. Gradually, Tiller finds himself immersed in this strange new world that he cannot quite understand, much less explain to his spouse. This film was screened at the 2001 Toronto Film Festival.
Critic Reviews for The Man from Elysian Fields
Audience Reviews for The Man from Elysian Fields
A mature and worldly screenplay is executed by actors giving elegantly crafted performances. Garcia, Jagger and Coburn all work together (despite Coburn and Jagger never sharing a scene). It's the way actions affect others and how ones own selfish desires can make or break a person. The men not only assert their power to gain wealth and acceptance but are also exploited by their female counterparts. All characters evolve and learn life lessons without the screenplay coming across as a self help novel. Emotional and funny only hampered by a surprisingly uninspired montage and an ending that feels to happily rushed.
Luke Baldock
Super Reviewer
½
Plays out better than it sounds, due to the cast.
Anthony Valletta
Super Reviewer
The Man from Elysian Fields Quotes
| | |
| --- | --- |
| Nigel Halsey: | All these rich bitches want is companionship and sex. We're like cocker spaniels with hard ons. |
| | |
| --- | --- |
| Luther Fox: | It's not easy to be polite when you're suicidal. |
| | |
| --- | --- |
| Byron Tiller: | This business you're in, doesn't it make you al little ashamed? |
| Luther Fox: | No, poverty does that. |
| | |
| --- | --- |
| Luther Fox: | A man can always support his family if he's ready to do whatever is necessary. |