The Man in the Gray Flannel Suit
(1956)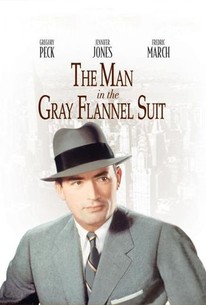 Movie Info
This meticulous and unusually long cinemadaptation of Sloan Wilson's best-selling novel The Man in the Grey Flannel Suit stars Gregory Peck as an ex-army officer, pursuing a living as a TV writer in the postwar years. Hired by a major broadcasting network, Peck is assigned to write speeches for the network's president (Fredric March). Peck comes to realize that the president's success has come at the expense of personal happiness, and this leads Peck to ruminate on his own life. Extended flashbacks reveal that Peck had experienced a torrid wartime romance with Italian girl Marisa Pavan, a union that produced a child. Peck is torn between his responsibility to his illegitimate son and his current obligations towards his wife (Jennifer Jones), his children, and his employer. Among the many life-altering decisions made by Peck before the fade-out is his determination to seek out a job that will allow him to spend more time with his family, even if it means a severe cut in salary. The superb hand-picked supporting cast of The Man in the Grey Flannel Suit includes Ann Harding as March's wife, Keenan Wynn as the man who informs Peck that he'd fathered an Italian child, Henry Daniell as a detached executive, and an unbilled DeForrest Kelley as an army medic (who gets to say "He's dead, captain"!) ~ Hal Erickson, Rovi
Critic Reviews for The Man in the Gray Flannel Suit
Audience Reviews for The Man in the Gray Flannel Suit
High toned soaper that does interesting stuff, especially involving post-traumatic stress syndrome. A vet returns to civilian life and is comfortable more or less, only his wife (cast as sort of a villianess: Jennifer Jones in an excellent portrayal) wants more, "... a bigger house, more money, some status wouldn't hurt, and why aren't you going out to get all that for us??? Maybe its cause you lost yer balls in the war!" Ouch! There's a couple of side plots as well; the romance in Italy with the other woman, the boss who sacrifices everything for the company and wants Peck to do as well, which are not bad. The overall treatment of the characters and the subject keeps everything from parody.
Kevin M. Williams
Super Reviewer
There are a lot of good actors in this movie, and the story is realistic, but it's so realistic that it's boring and uninteresting most of the time. It's okay, but it could have been a lot better.
Well acted but very dated in its attitudes.
The Man in the Gray Flannel Suit Quotes
There are no approved quotes yet for this movie.