The Man in the White Suit
(1951)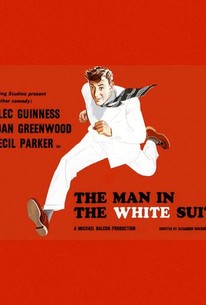 The Man in the White Suit Photos
Movie Info
Sidney Stratton (Alec Guinness) has a dream: to develop a fabric that never gets dirty and never wears out. His textile mill bosses discover his secret experiments and initially ban him from their laboratories. But when Daphne (Joan Greenwood) comes to understand what Sidney is trying to do, she convinces her father, Mr. Birnley (Cecil Parker), that developing Sidney's fabric would be great for business...and mankind. Little do they know that they will spark an uprising, not only among the textile workers who would lose their jobs to the ultimate cloth, but also the business owners who would rather maintain the status quo.
Critic Reviews for The Man in the White Suit
Audience Reviews for The Man in the White Suit
½
"Man in the White Suit" is perhaps, along with "Kind Hearts and Coronets," the pinnacle of the Ealing film. It's a very sophisticated and subtle comedy/farce that takes a dig at a number of the cultural institutions that characterise northern England. It's not so much a satire directed at capitalism but an opprobrium of the suspicious relationship between capital and labour and the broader unworkable relationship of commercial achievement with scientific progress. The success of the film resides in the subtlety with which these issues are explored and the even-handedness by which they are dealt with. At a more basic level the film is an excellent example of a farce as the frustration, misinterpretation and exaggerated comedy are delivered with a breath-taking pace. Very well written, even better direction and uniformly spot-on performances make this one of the great British films of the 1950s.
Cassandra Maples
Super Reviewer
I thought it was pretty dull to be honest. I thought it was meant to be just sci-fi, but it turned out it was a sci-fi comedy, which usually don't work. And it didn't. It wasn't funny, and it was just boring.
Lauren Donis
Super Reviewer
½
Another great Ealing Comedy, with the star of the studio, Alec Guiness always teriffic in the productions. Not as great as previoious ealing productions, such as Kind Hearts and Coronets, but still a must see, for British comedy and Ealing fans.
Jeremy Smith
Super Reviewer
The Man in the White Suit Quotes
There are no approved quotes yet for this movie.