Man of the House
(2005)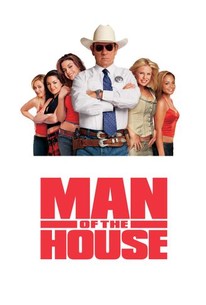 Movie Info
Directed by Stephen Herek, Man of the House follows hard-nosed Texas Ranger Lt. Roland Sharp (Tommy Lee Jones) in an undercover job as a cheerleading coach. Though his assignment is fairly cut-and-dried -- after witnessing the murder of a federal informant, a group of cheerleaders from the University of Texas need temporary protection -- he ends up forming a variety of unexpected and decidedly less simple relationships. Aside from his immersion into the struggles and triumphs of the UT cheerleading squad (Monica Keena, Kelli Garner, Christina Milian, Paula Garces, and Vanessa Ferlito), Roland finds himself dealing with a strong attraction to college professor Molly McCarthy (Anne Archer). Formerly titled Cheer Up, Man of the House also features supporting performances from Brian Van Holt, Shea Whigham, and Paget Brewster.
Critic Reviews for Man of the House
Audience Reviews for Man of the House
A feel-good movie with Tommy Lee Jones acting as a father figure to five ditzy cheerleaders. Not his best effort.
Tommy Lee doesn't really go with comedy (in my opinion) but this movie wasn't that bad. It has some good laughs. And man those cheerleaders are so stupid. Are they really like that in real life? Oh well.
Dead Angel
Super Reviewer